Phyto-history of Vijaya extracts for its potential Phytocomponents
Keywords:
Cannabis sativa, Vijaya extracts, Cannabis
Abstract
Cannabis is a genus of flowering plants in the family Cannabaceae. The three species of this plant are known which includes Cannabis sativa, Cannabis indica and Cannabis ruderalis. Cannabis sativa may be accepted as single individual species, all the three may be treated as subspecies of a single species, Cannabis sativa. The genus is widely accepted as being indigenous to and originating from Central Asia, some consider its origin as South Asia. Cannabis is an annual, dioecious, flowering herb. The leaves are palmately compounded with serrate leaflets. The plants have imperfect flowers, with staminate "male" and pistillate "female" and flowers occurring on separate plants. Many monoecious varieties have also been described, in which individual plants bear both male and female flowers. There are 157 Cannabis species that were differentiated on the basis of genetic, morphological, and chemotaxonomic variations. The terpenoid content will also differ in different species which is the major phytoconstituent that has immense medicinal properties. The genus Cannabis was first classified using the "modern" system of taxonomic nomenclature by Carl Linnaeus in 1753.
References
Geoffrey William Guy, Brian Anthony Whittle, Philip Robson, "The Medicinal Uses of Cannabis and Cannabinoids". Pharmaceutical Press. pp. 74(2004).
Tomáš Křížek, Miroslava Bursová, Rachel Horsley, Martin Kuchař, Petr Tůma, Radomír Čabala, Tomáš Hložek. "Menthol-based hydrophobic deep eutectic solvents: towards greener and efficient extraction of phytocannabinoids" Journal of Cleaner Production. JCLP 12937, 09 May (2018).
ElSohly MA, "Marijuana and the Cannabinoids". Springer. p. 8. ISBN 978-1-59259-947-9 (2007).
Meijer de EPM "Cannabis germplasm resources". In: Ranalli P. (ed.). Advances in Hemp Research, Haworth Press, Binghamton, NY, pp. 131–151. (1999).
Moliterni VC, Cattivelli L, Ranalli P, Mandolino G, "The sexual differentiation of Cannabis sativa L.: A morphological and molecular study". Euphytica. 140(1–2): 95–106. (2004).
Dana N, Tajaddini MH, Haghjooy JS, Jafari E, Abed A, Jamai M, Vaseghi G "Cannabis sativa extract reduces cytoskeletal associated proteins in breast cancer cell line". Int J Cancer Manag. 10(5). (2017).
Narcotic Drugs, International Narcotics Control Board. p. 21. ISBN 9789210481571.
Crime, United Nations Office on Drugs and "Statistical tables". World Drug Report. Vienna, Austria. p. xiv, 43. ISBN 978-92-1-057862-2, (2016).
Van de Donk, Tine Niesters, Marieke Kowal, Mikael A, Olofsen Erik, Dahan Albert, van Velzen Monique, "An experimental randomized study on the analgesic effects of pharmaceutical-grade cannabis in chronic pain patients with fibromyalgia". Pain. 160(4) :860-869. (2019).
Ali Sharif, Muhammad Furqan Akhtar, Bushra Akhtar, Ammara Saleem, Maria Manan, Maryam Shabbir, Muneeb Ashraf, Sohaib Peerzada, Shoaib Ahmed, and Moosa Raza. "Genotoxic and cytotoxic potential of whole plant extracts of Kalanchoe laciniata by Ames and MTT assay". EXCLI J.16: 593–601 (2017).
Wise A, Cannabis Science and Technology. 2(1): 20-26. (2019).
Madane AN, Kamble SK , Patil BJ, Aparadh vt. "Assessment of solvent solubility by using phytochemical screen tests of some Euphorbiaceae members". Asian J. Pharm. Res. Vol 3, Issue 2, 53-55, (2013).
Y. Liu, T.A. Brettell, J. Victoria, M.R. Wood, M.E. Staretz, "High Performance Thin-Layer Chromatography (HPTLC) analysis of cannabinoids in cannabis extracts", Forensic Chemistry https://doi.org/, doi:10.1016/j.forc.2020.100249. (2020).
Ponieman, Natan "Brazil Regulates Sale Of Medical Marijuana Products". Benzinga. (2019).
Williams, Sean "10 Countries (Aside From the U.S.) Where Some Form of Medical Marijuana Is Legal". The Motley Fool. (2016).
Senthilingam, Meera "Germany joins the global experiment on marijuana legalization". CNN. com. (2017).
Schwartz, Yardena "How the Booming Israeli Weed Industry Is Changing American Pot". Rollingstone.com. (2017).
Bud, Monterey "Jamaica's Kaya Farms Becomes First Medical Marijuana Dispensary To Open". Marijuana.com. (2018).
"Lebanon Legalizes Cannabis Farming for Medicinal Use" The New York Times. Reuters. (2020).
Pritchard, Heledd "Cannabis for medical use legalized in Luxembourg". Luxembourg Times. (2018).
Marusic, Sinisa Jakov "Macedonia Allows Medical Marijuana in Pharmacies". Balkan Insight. (2016).
Pace, Maria "Malta has officially legalized medical cannabis". Malta Today. (2018).
Ainge Roy, Eleanor "New Zealand passes laws to make medical marijuana widely available". The Guardian. (2018).
Collyns, Dan "Peru legalises medical marijuana in move spurred by mother's home lab". The Guardian. (2017).
Lamers, Matt "Portugal passes medical cannabis law, opens domestic market". Marijuana Business Daily. (2018).
"Medical use of cannabis and cannabinoids" European Monitoring Centre for Drugs and Drug Addiction. (2018).
"CSIR-IIIM, BOHECO to develop cannabis based drugs for cancer, epilepsy, sickle cell anemia" Business Standard India. (2018).
Kumari, Barkha "India's first cannabis clinic in Koramangala has benefited several Bengalureans". Bangalore Mirror. (2020).
Touw, M. "The religious and medicinal uses of Cannabis in China, India and Tibet". J. Psychoact. Drugs 13, 23–34. (1981).
Srivastava A, Yadav VK, "Microscopical and Chemical Study of Cannabis sativa". J Forensic Res 5: 210. doi:10.4172/2157-7145.1000210. (2013).
Choudhary N, Siddiqui M.B, Khatoon S and Shazia B: "Variation in extract yield in different parts of Tinospora cordifolia". Research Journal of Pharmacology and Pharmacodynamics 6(1), (2014).
Kempe CR, Tannert WK, Sterngast A "Application of Thin Layer Chromatography to the Identification of Charred Marijuana". JCLPA 63: 593- 594.1216-1223(1972).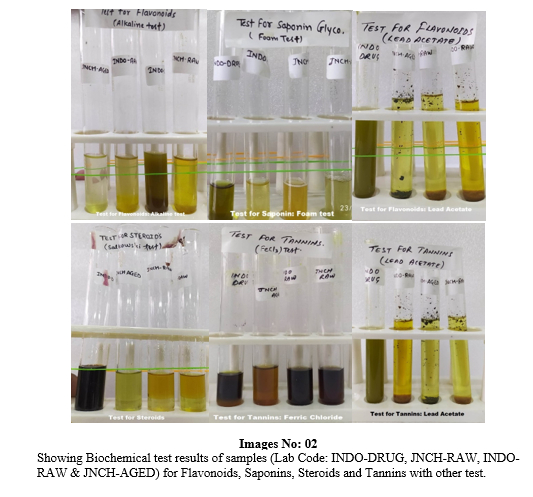 Downloads
How to Cite
1.
N G, Hanfi S, Chaurasiya S, Vats D, Kumar D. Phyto-history of Vijaya extracts for its potential Phytocomponents. ijp [Internet]. 2023 Feb. 17 [cited 2023 Oct. 3];15(1):01-10. Available from: https://ijp.arjournals.org/index.php/ijp/article/view/656
Section
Original Research Articles
License
Copyright (c) 2023 Ganesh N, Sarfaraz Hanfi, Shivam Chaurasiya, Deepti Vats, Dinesh Kumar
This work is licensed under a Creative Commons Attribution-NonCommercial-NoDerivatives 4.0 International License.