Synergistic Effects of Andrographolide on DNA Damage Repair Mechanism and Apoptosis in Breast Cancer Cells
Keywords:
Andrographolide, Apoptosis, Carboplatin, Cell cycle, DNA damage, Cancer
Abstract
Breast cancer is the second leading cause of cancer deaths in women. Several drugs including cisplatin and carboplatin have shown tremendous effectivity in reducing cancer; however development of drug resistance by breast cancer cells to overcome cytotoxic insults and recurrence of the disease is a major concern at the moment. Andrographolide is a diterpenoid with a potent anti-inflammatory and anti tumor activity and it's usage in combination therapy would be ideal as it is proven for it's apoptotic capability in varied number of cells. Antiproliferative and apoptotic activity of andrographolide in triple negative MDA-MB-231 cells was evaluated by clonogenic assay and flow cytometric analysis. Expression and phosphorylation of proteins were evaluated by immunoblotting. Our results revealed dose-dependent cytotoxic effects of andrographolide in MDA-MB-231 cells with and without carboplatin. It resulted in G2/M arrest of cells when treated alone, and further enhanced upon treatment in combination with carboplatin. Andrographolide alone and in combination with carboplatin enhanced apoptotic cells in early, mid and late stages and increased expression of DNA damage repair response proteins including FANCJ, FANCD2, RAD51, pRPA32 and p53. The present study strongly suggests that andrographolide inhibits breast cancer cell proliferation by apoptosis mediated through cell cycle arrest and up regulation of DNA damage repair response gene expression and shows synergistic effects upon usage in combination with carboplatin.
References
Siegel RL, Miller KD, Jemal A. Cancer statistics CA Cancer J Clin. 2015; 65(1):5-29.
Jemal A, Bray F, Center MM, Ferlay J, Ward E, Forman D. Global cancer statistics. CA.Cancer. J. Clin. 2011; 61: 69-90.
Consensus Document for Management of Breast Cancer, Indian Council of Medical Research (ICMR), 2016.
Millimouno FM, Dong J, Yang L, Li J, Li X. Targeting apoptosis pathways in cancer andperspectives with natural compounds from mother nature. Cancer. Prev. Res.2014; 7: 1081–107.
Pan SY, Zhou SF, Gao SH, Yu ZL, Zhang SF, Tang MK, Sun JN, Ma DL, Han YF, Fong WF, Ko KM. New Perspectives on How to Discover Drugs from Herbal Medicines: CAM's Outstanding Contribution to Modern Therapeutics. Evid Based Complement Alternat Med. 2013 :627375.
Conforti F and Menichini F. Phenolic compounds from plants as nitric oxide production inhibitors.Curr.Med.Chem. 2011; 18:1137-45.
Balunas MJ and Kinghorn AD. Drug discovery from medicinal plants. Life. Sci. 2005; 78:431-41.
Newmann DJ, Cragg GM, Snader KM. Natural products as sources of new drugs over the period 1981-2002. Journal of Natural Products. 2003; 66: 1022-37.
Varma A, Padh H, Shrivastava, N. Andrographolide: a new plant-derived antineoplastic entity on horizon. Evid Based Complement Alternat Med. 2011; 2011:815390.
Wang H, Zhao Y, Li L, McNutt MA, Wu L, Lu S, Yu Y, Zhou W, Feng J, Chai G, Yang Y, Zhu WG. An ATM- and Rad3-related (ATR) signaling pathway and a phosphorylation-acetylation cascade are involved in activation of p53/p21Waf1/Cip1 in response to 5-aza-2'-deoxycytidine treatment. J. Biol. Chem. 2008; 283: 2564-74.
Chun JY, Tummala R, Nadiminty N et al., Andrographolide, an herbal medicine, inhibits interleukin-6 expression and suppresses prostate cancer cell growth," Genes and Cancer. 2010;1: 868–76.
Jiang C, Li J, Liu F, Wu T, Yu M, Xu H. Andrographolide inhibits the adhesion of gastric cancer cells to endothelial cells by blocking E-selectin expression. Anticancer. Research. 2007; 27: 2439–47.
Sukumari-Ramesh S, Bentley JN, Laird MD, Singh N, Vender JR, Dhandapani K.M. Dietary phytochemicals induce p53 and caspase-independent cell death in human neuroblastoma cells. International Journal of Developmental Neuroscience. 2011; 29: 701–10.
Sheeja K, Guruvayoorappan C, Kuttan G. Antiangiogenic activity of AndrographisPaniculata extract and andrographolide. International Immunopharmacology. 2007; 7, 211-21.
Yuwen D, Mi S, Ma Y, Guo W, Xu Q, Shen Y, Shu Y. Andrographolide enhances cisplatin-mediated anticancer effects in lung cancer cells through blockade of autophagy. Anticancer Drugs. 2017; 28(9): 967-76.
Tripathi K, Mani C, Barnett R, Nalluri S, Bachaboina L, Rocconi RP. Gli1 Regulates S-phase Checkpoint in Tumor Cells via Bid and its Inhibition Sensitizes to DNA Topoisomerase 1Inhibitors. J Biol Chem. 2014; 289: 31513–25.
Shi MD, Lin HH, Lee YC, Chao JK, Lin RA, Chen JH. Inhibition of cell-cycle progression in human colorectalcarcinoma Lovo cells by andrographolide. Chemico-Biological Interactions. 2008; 174, 201-10.
Tripathi K, Mani C, Clark DW, Palle K. Rad18 is required for functional interactions between FANCD2, BRCA2, and Rad51 to repair DNA topoisomerase 1-poisons induced lesions and promote fork recovery. Oncotarget. 2016; 7: 12537-53.
Din S, Brill SJ, Fairman MP, Stillman B. Cell-cycle-regulated phosphorylation of DNA replication factor A from human and yeast cells. Genes. Dev. 1990; 4: 968-77.
Kumar RA, Sridevi K, Kumar NV. Anticancer and immunostimulatory compounds from Andrographis paniculata. J. Ethnopharmacol. 2004; 92: 291-95.
Yanchun Li, Pengfei Zhang, Feng Qiu, Lixia Chen, Caixia Miao, Jianchun Li, Wei Xiao, Enlong M. Inactivation of PI3K/Akt signaling mediates proliferation inhibition and G2/M phase arrest induced by andrographolide in human glioblastoma cells. Life Sciences.2012; 90: 962–7.
Jieliang Li, Hon-Yeung Cheung, Zhiqiang Zhang, Gallant KL,Chan, Wang-Fun Fong. Andrographolide induces cell cycle arrest at G2/M phase and cell death in HepG2 cells via alteration of reactive oxygen species. European Journal of Pharmacology. 2007; 568: 31–44.
Palle K and Vaziri C. Rad18 E3 ubiquitin ligase activity mediates Fanconi anemia pathway activation and cell survival following DNA Topoisomerase 1 inhibition. Cell Cycle Georget. Tex. 2011; 10:1625–38.
Moldovan G-L D and Andrea AD. How the Fanconi anemia pathway guards the geneome. Ann Rev Genet. 2009; 43: 223-49.
Chaudhury I, Stovik DR, Sobeck A. FANC D2 controlled chromatin access of the Fanconi associated nuclease FAN1 is crucial for the recovery of stalled replication forks. Mol. Cell.Biol. 2014; 34: 3939-54.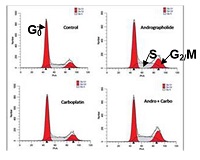 Downloads
How to Cite
1.
Venkateshwari Ananthapur, Pushpanjali Pendyala, Prathiba Nallari. Synergistic Effects of Andrographolide on DNA Damage Repair Mechanism and Apoptosis in Breast Cancer Cells. ijp [Internet]. 2018 Dec. 31 [cited 2023 Dec. 11];10(4):201-7. Available from: https://ijp.arjournals.org/index.php/ijp/article/view/609
Section
Original Research Articles