Phenolic content and antioxidant activity of young and mature mango (Mangifera indica) and avocado (Persea americana) leave extracts
Keywords:
Phenolic content, Antioxidant activity, Persea Americana, Mangifera indica
Abstract
Polyphenols are groups of secondary metabolites in plants, known with their various biological activities, including their ability to act as antioxidants. Due to the side effects of the use of synthetic antioxidants on human's health, the search for natural less toxic compounds has significantly increased. This study was carried out to evaluate the phenolic content and antioxidant activity of young and mature avocado (Persea americana) and mango leaves (Mangifera indica). Different extracts were prepared by maceration in methanol, ethanol, cold and hot water. The phenolic content of the extracts was determined using the Folic-Ciocalteu Method. A total of three antioxidant tests were done on the extracts: the 2, 2-diphenyl-1-picrylhydrazyl test (DPPH test), the Ferric reducing antioxidant power and the Hydroxyl radical scavenging activity. Results of these investigations generally showed that the mature leaves of mango and young leaves of avocado exhibited the highest phenolic and flavonoid contents, as well as the antioxidant activity. They can be recommended as good sources of antioxidants to reduce the damages caused by free radicals and reactive oxygenated species in the body. They can also be recommended as a source of antioxidants for the preservation of oils, food containing lipids and pharmaceutical products.
References
Rahman I, Adcock IM. Oxidative stress and redox regulation of lung inflammation in COPD. European respiratory
journal. 2006;28(1):219–242.
Arts C, Hollman PC. Polyphenols and disease risks in epidemiologic studies. American Journal of Clinical Nutrition. 2005;(81):317–25.
Zarena A, Sankar KU. A study of antioxidant properties
from Garcinia mangostana L. pericarp extract. . Acta Scientiarum Polonorum Technologia Alimentaria. 2009;8:23–
Djikeng TF, Womeni HM, Anjaneyulu E, Boungo TG,
Karuna MSL, Prasad RBN, et al. Performance of
Green Tea leaves methanolic extract in stabilizing refined,
bleached and deodorized palm olein during storage at frying temperature. European Journal of Nutrition and Food
Safety. 2017;7:144–154.
Womeni H, Djikeng FT, Karuna MSI, Prasad RSN, Linder
M. Oxidative stabilization of RBD palm olein under forced
storage conditions by old Cameroonian green tea leaves
methanolic extract. Nutrition and Food Science Journal.
;3:33–40.
Habermann E, Imatomi M, Pontes FC, Guattieri SCJ. Antioxidant activity and phenol content of extracts of bark,
stems, and young and mature leaves of Blepharocalyx
salicifolius (Kunth) O. Berg (Murta). Acta Biologica
Colombiana;20:153–162. Available from: 2016.
Shah KA, Patel MB, Shah SS, Chauhan KN, Parmar PK,
Patel NM. Antihyperlipidemic activity of Mangifera indica leaf extract on rats fed with high cholesterol diet. Der
Pharmacia Sinica. 2010;1:156–161.
Major herbs of Ayurveda-China. London: Churchill Livingstone publication; 2002. p. 201–205.
Ayoola GA, Coker H, Adesegun S, Adepoju-Bello AA,
Obaweya K, Ezennia EC, et al. Phytochemical Screening and Antioxidant Activities of Some Selected Medicinal Plants Used for Malaria Therapy in Southwestern
Nigeria. Tropical Journal of Pharmaceutical Research.
;7:1019–1024.
Kanwal Q, Hussain I, Latif SH, Javaid A. Antifungal activity of flavonoids isolated from mango (Mangifera indica
L.) leaves. Natural Product Research. 2010;24:1907–1914.
Adeyemi OO, Okpo SO, Ogunti OO. Analgesic and
anti-inflammatory effect of the aqueous extract of leaves
of Persea americana Mill (Lauraceae). . Fitoterapia.
;73:375–380.
Soong YY, Barlow PJ. Antioxidant Activity and Phenolic Content in the selected fruit seeds. Food Chemistry.
;88:411–417.
Murugan R, Velayudhan SR. Advances in Induced
Pluripotent Stem Cells: Nanomaterial Perspectives. Journal of Bionanoscience. 2016;10:163–170.
Gao X, Ohlander M, Jeppsson N, Bjork L, Trajkovski V.
Changes in Antioxidant Effects and Their Relationship
to Phytonutrients in Fruits of Sea Buckthorn (Hippophae
rhamnoides L) during Maturation. Journal of Agricultural
and Food Chemistry. 2000;48:1485–1490.
Quettier DC, Gressier B, Vasseur J, Dine T, Brunet C,
Luyckx MC, et al. Phenolic Compounds And Antioxidant activities of buckwheat (Fagopyrum esculentum
Moench) hulls and flour. Journal of Ethnopharmacology.
;72:35–42.
Braca A, Sortino C, Politi M. Antioxidant activity
of flavonoids from Licania licaniaeflora. Journal of
Ethnopharmacology. 2002;79:379–381.
Oyaizu M. Studies on products of browning reactions: Antioxidative activities of products of browning reaction prepared from glucosamine the Japanese. Journal of Nutrition
and Dietetics. 1986;44:307–315.
Olabinri BM, Adebisi JA, Odesomi OF, Olabinri PF,
Adeleke GE. Experimental classification of the antioxidant capacity of the leaf, stem and root barks of Mangifera
indica and Azadirachta indica. African Journal of Biotechnology. 2010;8:2968–2972.
Bouba AA, Njintang YN, Scher J, Mbofung CMF. Phenolic compounds and radical scavenging potential of twenty
Cameroonian spices. Agriculture and Biology Journal of
North America;1:213–224.
Womeni HM, Djikeng FT, Tiencheu B, Linder M. Antioxidant potential of methanolic extracts and powders of some
Cameroonian spices during accelerated storage of soybean
oil. Advances in Biological Chemistry;.
Kaur HP, Kaur S, Prasad B, Phytochemical MPA. Antioxidant and Antibacterial Studies on Bambusa arundinacea
and Mangifera indica. International Journal of Pure and
Applied Bioscience;3:87–93.
Vinha AF, Barreira MJ, S VP. Physicochemical Parameters, Phytochemical Composition and Antioxidant Activity
of the Algarvian Avocado (Persea americana. Mill) Journal
of Agricultural Science;5:100–109.
Kim I, Choe E. Oxidative Stability and antioxidant content
changes in roasted and bleached sesame oil during heating.
Food Science and Biotechnology;13:762–771.
Shan B, Yizhong ZC, Harold MS, C. Antioxidant Capacity of 26 spice Extracts and Characterization of their
Phenolic Constituents. Journal of Agricultural and Food
Chemistry;53:7749–7759.
D'abrosca D, Pacifico S, Cefarelli G, Mastellone C,
Fiorentino A. 'Limoncella' apple an Italian apple cultivar Phenolic and flavonid contents and antioxidant activity.
Food Chemistry;.
Arukwe U, Amadi BA, Duru MKC, Agomou EN, Adindu
EA, Odika PC, Lele KC, Egeejuru L and Anudike J.
Chemical composition of Persea americana leaf, fruit and
seed. International Journal of Recent Research and Applied Studies;11:346–349.
Duresa LW. Phytochemical Screening and Antioxidant Activity of Selected Mango (Mangifera indica L.) and Avocado (Persea americana) Fruits in Illu Ababor Zone, Oromia regional state. Ethiopia IOSR Journal of Applied
Chemistry;2017(10):24–28.
Habermann E, Imatomi M, Pereira VC, Pontes FC and
Gualtieri SCJ. Actividade fitotoxica de cascas do caule
e follas de Blepharocalyx salicifolius Kuth O. Berg
(Myrtaceae) sobre species infestantes. Acta Biologica
Colombiana;20:153–162.
Habermann E, Pereira VC, Imatomi M, Pontes FC and
Gualtieri SCJ. Fitotoxicidade e fractionamento biodirigido
dos extratos de cascas;.
C DER. Tremocoldi MA, Rosalen PL, Franchin M, Massarioli. ONE. 2018;13(2):0192577. Available from: https:
//doi.org/10.1371/journal.pone.0192577.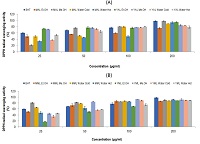 Downloads
How to Cite
1.
Félicité Kingne Kingne, Fabrice Tonfack Djikeng, Hermine Doungue Tsafack, Mallampalli Sri Lakshmi Karuna, Hilaire Macaire Womeni. Phenolic content and antioxidant activity of young and mature mango (Mangifera indica) and avocado (Persea americana) leave extracts. ijp [Internet]. 2018 Dec. 31 [cited 2023 Dec. 11];10(4):181-90. Available from: https://ijp.arjournals.org/index.php/ijp/article/view/607
Section
Original Research Articles