Hibiscus noldea (Malvaceae) Aqueous Extract Prevents Insulin Resistance and Protects Pancreatic Islets From Dexamethasone Damages in Rat.
Keywords:
dexamethasone, insulinresistance, hyperglycaemia, pancreatic islets area, Hibiscus noldea
Abstract
Hibiscus noldea leaves-stems aqueous extract is used in Cameroonian traditional medecine to manage diabetes. To investigate the preventive effect of Hibiscus noldea aqueous extract on dexamethasone-induced insulin resistance, the animals received one of the following treatments: distilled water (10 mL/kg), metformine (200 mg/kg), or H. noldea (100 or 200 mg/kg) concomitantly with dexamethasone (0.5 mg/kg, ip) for ten days. Body weight was evaluated daily and blood glucose levels were measured. At the end of experiment, insulin sensitivity test was performed and lipid profile, transaminases Aspartate amino transferase, Alanin amino transferase, malondialdehyde, superoxide dismutase, catalase, and reduced glutathione were evaluated. Histological analysis of the liver was investigated to estimate glycogen content using Periodic Acid Schiff coloration and histomorphometry of pancreatic islets area was performed. The administration of dexamethasone during ten days induced body weight loss, hyperglycaemia, insulinresistance, an imbalance in lipid profile, an increase in transaminases and oxidative stress. Dexamethasone treatment also induced an increase in the pancreatic islets area and depletion in the levels of hepatic glycogen. Concomitant administration of dexamethasone and the aqueous plant extract prevented the rise in blood glucose levels, reduced insulinresistance, improved lipid profile and oxidative status. The aqueous extract of H. noldea prevented the use of glycogen storage and the increase in pancreatic islet area in dose dependent manner. Conclusion: The stem leaves aqueous extract from Hibiscus noldea have the ability to reduce insulinresistance via its antihyperglycaemic, hypolipidemic and antioxidant activities. These results justify the use of this extract in the management of diabetic state.
References
. Protzek AO, Rezende LF, Costa-Júnior JM, Ferreira SM, Capelli AP, Moura de Paula FM. Cristina de Souza J, Kurauti MA, Carneiro EM, Rafacho A, Boschero AC. Hyperinsulinemia caused by dexamethasone treatment is associated with reduced insulin clearence and lower hepatic activity of insullin-degrading enzyme. J Steroid. Biochem. 2016; 155: 1 – 8.
. Nicod N, Giusti V, Besse C, Tappy L. Metabolic adaptations to dexamethasone-induced insulin resistance in healthy volunteers. Obes Res. 2003; 11 : 625–31.
. Kooiji FO, Kal JE, Hans PC, Bonhomme VL. Blood glucose concentration profile after 10 mg dexamethasone in non-diabetic and type 2 diabetic. British J. of anaesth. 2006 ; 97 (6): 896-903.
. Rafacho A, Cestari TM, Taboga SR, Boshero AC, Bosqueiro JR. High doses of dexamethasone induce increased β cell proliferation in pancreatic rat islets. Am J Physiol Endocrinol Metab. 2009; 296: E681 – E689.
. Adjanohoun JE, Aboukakar N, Dramane K, Ebot ME, Ekpere, JA, Enow-Orock EG, Focho D, Gbile ZO, Kamanyi A, Kamsu KJ, Keita A, Mbenkum T, Mbi CN, Mbiele AL, Mbome IL, Mubiru NK, Nancy WL, Nkongmeneck B, Satabu B, Sofowora A, Tamze V, Wirmum CK. Traditional medicine and pharmacopoeia. Contribution to Ethnobotanical and Floristic Studies in Cameroon. Centre de Production de Manuels Scolaires, Porto-Novo (Rep. Du Benin), 1996 ; p. 641.
. Chifundera K. Livestock diseases and the traditional medicine in the bushi area, kivu province, democratic republic of Congo. African Study Monographs. 1998; 19: 13 – 33.
. Donfack JH, Nkenfou C, Boampong NG, Ngueguim TF, Ngadjui TB, Isha G, Van Reddy G, Inder PS, Rakesh S,. Ethnopharmacological investigation and In vitro antigardial activity of some Cameroonian medicinal plants. Pharmacologia. 2012; 3(12): 672-678.
. Ngueguim TF, Esse CE, Dzeufiet DPD, Gounoue KR, Bilanda D C, Kamtchouing P, Dimo T. Oxidised palm oil and sucrose induced hyperglycemia in normal rats: effects of Sclerocaryabirrea stem barks aqueous extract. BMC Compl Alter Med. 2016 ;16:47. 1-11.
. Youmbissi TJ, Djoumessi S, Nouedoui C, Ndobo P, Meli J. Profil lipidique d'un groupe d'hypertendus camerounais noirs africains. Médecine d'Afrique Noire. 2001; 48 : 305–314. In French
. Odredra BR, Bates PC, Millward DJ. Time-course of the effect of catabolic doses of corticosterone on protein turnover in rat skeletal muscle. Biochem J. 1983; 214: 617 – 627.
. Glass DJ. Signaling pathways that mediate skeletal muscle hypertrophy and atrophy. Nature Cell Biol. 2003; 5: 87 – 90.
. Salman ZK, Refaat R, Selima E, El Sarha A, Ismail MA. The combined effect of metformin and L-cysteine on in flammation, oxidative stress and insulin resistance in streptozotocin-induced type 2 diabetes in rats. Eur J Pharmacol. 2013; 714(1–3): 448-455.
. Saad MJ, Folli K, Kahn JA, Kahn CR. Modulation of insulin receptor, insulin receptor substrate-1, and phosphatidylinositol 3-kinase in liver and muscle of dexamethasone-treated rats. J Clin Invest. 1993; 92: 2065 – 2072.
. Turnbow MA, Keller SR, Rice KM, Garner CW. Dexamethasone down-regulation of insulin receptor substrat-1 in 3T3-L1 adipocytes. J Biol Chem. 1994; 269: 2516 – 2520.
. Ruzzin J, Wagman AS, Jensen J. Glucocorticoid-induced insulin resistance in skeletal muscles: defects in insulin signalling and the effects of selective glycogen synthase kinase-3 inhibitor. Diabetologia. 2005; 48: 2119 – 2130.
. Mahendran P, Devi, CSS. Effect of Gracinia cambogia extract on lipids and lipoprotein composition in dexamethasone administered rats. Ind J Physiol Pharmacol. 2001 ; 45: 345-350.
. Kumar VR, Inamdar MN, Nayeemunnis, Viswanatha GL. Protective effect of lemongrass oil against dexamethasone induced hyperlipidemia in rats: possible role of decreased lecithin cholesterol acetyl transferase activity. Asian Pac J Trop Med. 2011. 658-660.
. Rajakalanithi A, Swasthika P, Sujatha S. Evaluation of anti-hyperglycemic and anti-hyperlipidemic effects of Naravelia Zeylanica in streptozotocin-induced diabetic rats. Int J of Phytomedecine. 2016; 8:482-490.
. Rajasekaran S, Jaykar B, Anandan R, Aboobacker S K, Vannamalar S.. Anti diabetic activity of leaves of Zizyphus nummularia by dexamethasone induced diabetic rat model. Inter J Phytopharmacol. 2013; 5(2): 844-851.
. Gandhi RG, Ignacimuthu S, Paulraj MG.. Hypoglycemic and b-cells regenerative effects of Aeglemarmelos (L.) Corr. bark extract in streptozotocin-induced diabetic rats. Food Chem Toxicol. 2012; 50(5): 1667-1674.
. Aylin SD, Sereften A, Cemal C, Meltem S, Erdem Y. Effects of in vivo antioxidant enzyme activities of myrtle oil in normoglycaemic and alloxan diabetic rabbits. J.Ethnopharmacol. 2007; 110:498–503.
. Marian, V., Dieter, L., Jan, M., Mark, T.D., Milan, M., Joshua, T. 2007. Free radicals and antioxidants in normal physiological functions and human disease. Int J Biochem Cell Biol. 39(1): 44-84.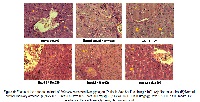 Downloads
How to Cite
1.
Ngueguim Tsofack Florence, Djientcheu Tientcheu Jean Philippe, Donfack Jean Hubert, Gounoue Kamkumo Raceline, Dzeufiet Djomeni Paul Desire, Kamtchouing Pierre, Dimo Theophile. Hibiscus noldea (Malvaceae) Aqueous Extract Prevents Insulin Resistance and Protects Pancreatic Islets From Dexamethasone Damages in Rat. ijp [Internet]. 2017 Jun. 30 [cited 2023 Nov. 30];9(2):267-74. Available from: https://ijp.arjournals.org/index.php/ijp/article/view/536
Section
Original Research Articles