Formulation and Development of Spirulina (Athrospira plantasis) Loaded Chocolatesas Immunity Boosters
Keywords:
Spirulina, Immunity booster, Chocolate
Abstract
Adults, as well as children, have a great need for nutrients such as Calcium, Iron, Zinc, Protein, and Vitamin B12. Spirulina is very rich in protein, omega 3 and omega 6 oils, vitamin, and mineral, and its incorporation into chocolates will enrich their nutritional values. Spirulina satisfies the nutritional needs by providing all these nutrients, as well as all the essential amino acids. Spirulina is unique and 100% safe. In fact, Spirulina is the only natural food that contains GLA (gamma linoleic acid) an essential fatty acid that is found only in mother's milk. This GLA plays a very vital in balancing the hormonal system in the body. So it is actually very good to give Spirulina to the children. Our Spirulina Chocolates were prepared by simple incorporation method by addition of 1gm Spirulina by dissolving in 10 ml NaCl as a solubility enhancer as well as to mask the taste and smell. This chocolate form is easier for every individual to chew and absorb. The chocolates were assessed for organoleptic properties, pH, blooming test, and hardness. This significant study revealed the efficacy of Spirulina Chocolate Formulation and it would definitely have a wide scope in the future as an immunity booster and in treatments of malnutrition in children as well. Further study is required to reveal the quantification of constituents present in Spirulina Chocolate formulation by in vivo and invitro studies.
References
Mao TK, Gershwin ME. Effects of a Spirulina-based dietary supplement on cytokine production from allergic rhinitis patients. J Med Food, spring. 2005;8(1):27-30.
Elizdath MG, Ricardo PP, Angélica PJ. Preclinical antitoxic properties of Spirulina (Arthrospira) German Chamorro. Pharm Biol. 2016;54(8):1345-53.
Mostafa MS. Role of pH on antioxidants production by Spirulina (Arthrospira platensis) Braz. J Microbiol. 2016;47(2):298-304.
Karkos PD., Leong SC., Karkos CD. Spirulina in Clinical Practice: Evidence-Based Human Applications Evid Based Complement Alternat Med. 2011: 531053.
Dillon JC, Phuc AP, Dubacq JP. Nutritional value of the alga Spirulina. World Review of Nutrition and Dietetics. 1995;77:32–46.
Yang HN, Lee EH, Kim HM. Spirulina platensis inhibits anaphaylactic reaction. Life Sciences. 1997;61(13):1237–1244.
Kim HM, Lee EH, Cho HH, Moon YH. Inhibitory effect of mast cell-mediated immediate-type allergic reactions in rats by Spirulina. Biochemical Pharmacology. 1998;55(7):1071–1076.
Baicus C, Baicus A. Spirulina did not ameliorate idiopathic chronic fatigue in four N of 1 randomized controlled trials. Phytotherapy Research. 2007;21(6):570–573.
Mao TK, Van de Water J, Gershwin ME. J Med Food. 2005; 8(1):27-30.
Pallavi D. Pawar et al Formulation and evaluation of herbal chocolate as nervine tonic. J. Pharm. Sci. & Res. 2019;11(5):1808-1813.
Alekhya, RT, Shama NS, Kumar AC. Formulation and Evaluation of Herbal Chocolate in the Treatment of Obesity. International J for Pharmaceutical Research Scholars (IJPRS) Accepted Date: 20/04/2014.
Bhusnure OG. Standardization and Quality Evaluation of Herbal Drugs. J Drug delivery and Therapeutics. 2019;9(3).
Lokesh PS, Kalaskar PG, Chandrasekar SB, Umashankar C, Pawar AT. Formulation and evaluation of herbal formulations (Ointment, Cream, Gel) containing Tridax procumbens and Areca catachu. J of Scientific and Innovative Research 2017; 6(3): 97-100
WHO. 1988. Quality Control Methods for Medicinal Plant Materials. World Health organisation,Genava
Herbone JB..Phytochemical methods, Chapman and Hall, London, New York, 2nd Edition. 1928.
Kokate CK, Gokhale SB. Pharmacognosy. Nirali prakashan, Delhi. 2004.
Kokate CK, Purohit AP, Gokhale SB. Pharmacognosy, 31st edition Nirali Prakshan, 2005; 97-131.
Ansari SH. Essentials of Pharmacognosy, Birla publications pvt ltd, 2001;10-16.
Ahirwal B, Ahirwal D and Ram A. Evaluation of standards and quality control parameters of herbal drugs, souvenir, recent trends in herbal therapy. 2006; 25-2.9
Williamson E, Okpako DT, Evans FJ. Pharmacological Methods in Phytotherapy Research. Preparation and Pharmacological Evaluation of Plant Material. John Wiley and Sons, Chichester. 1996;1(1).
Chaudhary S, Negi A, Dahiya V. The study of in vitro antimicrobial activity and phytochemical analysis of some medicinal plants in chamoli garhwal region. Phcog J. 2010; 2:481–485.
Evans WC. Trease & Evans. Pharmacognosy. 2009; 16.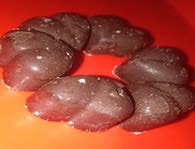 Downloads
How to Cite
1.
Shweta Prashant Ghode, Prashant D Ghode, Vibhavari M Chatur, Rohini Kolhe, Sandesh Patil. Formulation and Development of Spirulina (Athrospira plantasis) Loaded Chocolatesas Immunity Boosters. ijp [Internet]. 2020 Dec. 31 [cited 2023 Dec. 11];12(4):132-7. Available from: https://ijp.arjournals.org/index.php/ijp/article/view/645
Section
Original Research Articles