In-vitro Anti-cercarial activity of extracts and steroidal alkaloids from the stem bark of Holarrhena floribunda (G. Don) Dur. & Schinz
Keywords:
Cercaria, schistosomiasis, conessine, praziquantel, Schistosoma haematobium
Abstract
Context: Schistosomiasis continues to be the leading cause of morbidity and mortality among the neglected tropical diseases. Apart from the high cost of chemotherapy, concerns over drug resistance and tolerance have been raised in the past decade. Objective: The aim of the study was to evaluate the anticercarial activity of extracts and compounds from the stem bark of Holarrhena floribunda on cercaria of Schistosoma haematobium. Methods: Hydroethanolic and alkaloidal extracts from the stem bark of H. floribunda were tested on cercaria at concentrations between 500.00 and 15.625 μg/mL for 180 minutes and assessing the percentage viability at time intervals of 0, 15, 30, 60, 120 and 180 minutes. Praziquantel, used as reference drug, and the isolated compounds were tested at similar concentrations. The cercaria mortalities and IC50 of extracts and compounds were estimated after 30 minutes of incubation. Results: The 70 %v/v ethanol extract showed the highest activity (IC50=20.09±1.11 μg/mL) with praziquantel giving IC50 of 695.50±1.12. The alkaloids holonamine, holadienine and conessine, isolated from the stem bark, showed considerable cercaricidal activity with the latter recording an IC50 of 33.28±1.04. Conclusion: The study gives first-hand knowledge of the anti-cercarial activity of H. floribunda and its steroidal alkaloids. This gives credence to the traditional uses of the plant as an anti-parasitic agent.
References
WHO. Weekly epidemiological record. 2016-[cited 01 April 2018]. Avaialable at http://www.who.int/schistosomiasis/resources/who_wer914950/en/ [2] WHO. Prevention and control of Schistosomiasis and Soil-helminthiasis: Report of a WHO expert committee. Geneva, Switzerland, 2001. cited 01 April 2018 Available at https://apps.who.int/iris/handle/10665/42588 [3] Aryeetey ME, Wagatsuma Y, Yeboah G, Asante M, Mensah G, Nkrumah FK, & Kojima S. Urinary schistosomiasis in southern Ghana: Prevalence and morbidity assessment in three (defined) rural areas drained by the Densu river. Parasitol Int 2000; 49: 155-63. https://doi.org/10.1016/S1383-5769(00)00044-1 [4] Anto F, Asoala V, Adjuik M, Anyorigiya T, Oduro A, Akazili J, ., Akweong, P, Ayivor P.K, Bimi, L, & Hodgson, A.. Water contact activities and prevalence of schistosomiasis infection among school-age children in communities along an irrigation scheme in rural northern Ghana. J Bacteriol Parasitol 2015; 4: 1–6. DOI:10.4172/2155-9597.1000177 [5] Reich MR, Govindaraj R, Dumbaugh K, Yang B, Brinkmann A, El-Saharty S. International strategies for tropical disease treatments: Experiences with praziquantel. 1998; 26: 1–116. Available at http://apps.who.int/medicinedocs/pdf/whozip48e/whozip48e.pdf [6] Ross AGP, Bartley PB, Sleigh AC, Olds GR, Li Y, Williams GM, & McManus DP. Schistosomiasis. N Engl J Med 2002; 346: 1212–20. DOI: 10.1056/nejmra012396 [7] Badmus JA, Ekpo OE, Hussein AA, M. Meyer & D. C. Hiss. Cytotoxic and cell cycle arrest properties of two steroidal alkaloids isolated from Holarrhena floribunda (G. Don) T. Durand & Schinz leaves. BMC Complement Altern Med 2019; 19: 112. https://doi.org/10.1186/s12906-019-2521-9 [8] Gnangoran BN, N'guessan BB, Amoateng P, Dosso K, Yapo AP, Ehile EE. Hypoglycaemic activity of hydroethanolic leaf extract and fractions of Holarrhena floribunda (Apocynaceae). J Med Biomed Sci 2012; 1: 46–54. https://www.ajol.info/index.php/jmbs/article/view/80231 [9] Hoekou YP, Tchacondo T, Karou SD, Yerbanga RS, Achoribo E, Da O Atakpama W, & Batawila K Therapeutic potentials of hydroethanolic extract of leaves of Holarrhena floribunda (G. Don) Dur. and Schinz (Apocynaceae). Afr J Tradit Complement Altern Med 2017; 14: 227–33. • DOI: 10.21010/ajtcam.v14i2.24 [10] Tamboura HH, Bayala B, Lompo M, Guissou IP, Sawadogo L. Ecological distribution, morphological characteristics and acute toxicity of aqueous extracts of Holarrhena floribunda (G. Don) Durand & Schinz , Leptadenia hastata (Pers) Decne and Cassia sieberiana (D C) used by veterinary healers in Burkina Faso. Afr J Tradit Complement Altern Med 2005; 2: 13–24. https://www.ajol.info/index.php/ajtcam/article/view/31100 [11] Nnadi CO, Ngozi JN, Marcel K, Reto B, Schmidt TJ. Steroid alkaloids from Holarrhena africana with strong activity against Trypanosoma brucei rhodesiense. Molecules 2017; 22: 1-13. • DOI: 10.3390/molecules22071129 [12] Yemoa A, Gbenou J, Affolabi D, Moudachirou M, Bigot A, Anagonou S, Portaels F, Martin A & Quetin-Leclercq J. Beninese medicinal plants as a source of antimycobacterial agents: bioguided fractionation and in vitro activity of alkaloids isolated from Holarrhena floribunda used in traditional treatment of buruli ulcer. Biomed Res Int 2015; 835767. DOI: 10.1155/2015/835767 [13] Brown DS, Shawt KM, Southgate VR, Rollinson D. Bulinus guernei (Mollusca : Gastropoda) of West Africa : taxonomic status and role as host for schistosornes. Zool J Linn Soc 1986; 88: 59–90. https://doi.org/10.1111/j.1096-3642.1986.tb00877.x [14] Tucker MS, Karunaratne LB, Lewis FA, Freitas TC, Liang Y. Schistosomiasis. Curr Protoc Immunol 2013; 103: 1-58. https://doi.org/10.1002/0471142735.im1901s103 [15] Tekwu EM, Bosompem KM, Anyan WK, Appiah-Opong R, Owusu KB, Tettey MD, Kissi FA, Appiah AA, Beng VP & Nyarko AK. In vitro assessment of anthelmintic activities of Rauwolfia vomitoria (Apocynaceae) stem bark and roots against parasitic stages of Schistosoma mansoni and cytotoxic study. J Parasitol Res 2017; 2017: 1-11. DOI: 10.1155/2017/2583969 [16] Zirihi GN, Grellier P, Guina FG, Bodo B, Mambu L. Isolation, characterization and antiplasmodial activity of steroidal alkaloids from Funtumia elastica (Preuss) Stapf. Bioorg Med Chem Lett 2005; 15: 2637–40. DOI: 10.1016/j.bmcl.2005.03.021 [17] Lannang AM, Anjum S, Tangmouo JG, Krohn K, Choudhary MI. Conessine isolated from Holarrhena floribunda. Acta Crystallogr E 2007; 63: 4398. https://doi.org/10.1107/S1600536807051215 [18] Kumar N, Singh B, Bhandari P, Gupta AP, Kaul VK. Steroidal Alkaloids from Holarrhena antidysenterica (L.) WALL. Chem Pharm Bull 2007; 55: 912-14. DOI: 10.1248/cpb.55.912 [19] Davis JB, Jewers K, Manchanda AH, Wood AB. Maingayine: a new steroidal alkaloid from Paravallaris maingayi. Chem and Ind 1970; 19: 627. https://europepmc.org/article/med/5442520 [20] Siddiqui BS, Usmani SB, Begum S, Siddiqui S. Steroidal alkaloids and an androstane derivative from the bark of Holarrhena pubescens. Phytochemistry 1993; 33: 925-28. https://doi.org/10.1016/0031-9422(93)85306-C [21] King CH, Dickman K, Tisch DJ. Reassessment of the cost of chronic helmintic infection: a meta-analysis of disability-related outcomes in endemic schistosomiasis. Lancet 2005; 365: 1561–69. DOI: 10.1016/S0140-6736(05)66457-4 [22] Cheenpracha S, Jitonnom J, Komek M, Ritthiwigrom T, Laphookhieo S. Acetylcholinesterase inhibitory activity and molecular docking study of steroidal alkaloids from Holarrhena pubescens barks. Steroids 2016; 108:92-8. DOI: 10.1016/j.steroids.2016.01.018 [23] Dua VK, Verma G, Singh B, Rajan A, Bagai U, Agarwal D, et al. Anti-malarial property of steroidal alkaloid conessine isolated from the bark of Holarrhena antidysenterica. Malar J 2013; 12: 194. DOI: 10.1186/1475-2875-12-194 [24] Bogne KP, Penlap BV, Lontsi D, Etoa FX. Antibacterial activities of the extracts and conessine from Holarrhena floribunda G. Don. (Apocynaceae). Afr J Tradit Complement Altern Med 2007; 4: 352-356. DOI: 10.4314/ajtcam.v4i3.31229 [25] Utzinger J, Chollet J, Jiqing Y, Jinyan M, Tanner M, Shuhua X. Effect of combined treatment with praziquantel and artemether on Schistosoma japonicum and Schistosoma mansoni in experimentally infected animals. Acta Trop 2001; 80: 9–18. DOI: 10.1016/s0001-706x(01)00138-3 [26] Xiao SH. Development of antischistosomal drugs in China, with particular consideration to praziquantel and the artemesinins. Acta Trop 2005; 96: 153-167. DOI: 10.1016/j.actatropica.2005.07.010 [27] Olveda DU, McManus DP, Ross AG. Mass drug administration and the global control of schistosomiasis: successes, limitations and clinical outcomes. Curr Opin Infect Dis 2016; 29: 595–608. DOI: 10.1097/QCO.0000000000000312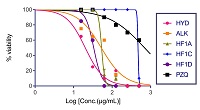 Downloads
How to Cite
1.
Isaac Kingsley Amponsah, Francis Ackah Armah, John Alake, Benjamin Kingsley Harley, Elikplim Kwesi Ampofo, Evelyn Asante-Kwatia, Aglomasa Bill Clinton, Benjamin Amoani, Isaac Tabiri Henneh. In-vitro Anti-cercarial activity of extracts and steroidal alkaloids from the stem bark of Holarrhena floribunda (G. Don) Dur. & Schinz. ijp [Internet]. 2020 Sep. 30 [cited 2023 Dec. 11];12(3):69-78. Available from: https://ijp.arjournals.org/index.php/ijp/article/view/639
Section
Original Research Articles