Hypericum scruglii Bacchetta, Brullo & Salmeri, is it a possible natural resource against Fibromyalgia?
Keywords:
Fibromyalgia, Hypericum, Hypericum scruglii, anti-oxidant effect, antidepressant, serotonine
Abstract
Fibromyalgia (FM) is today a serious public health issue. Tested treatments have shown limited efficacy. Oxidative stress probably interacting with the glutamatergic / gamma -Aminobutyric acid balance may play a role. Antidepressants improve sleep and mood especially those with double action on serotonin and norepinephrine, but these are also those with a greater risk of manic switch considering the high frequency of comorbidity with bipolar disorders. This narrative review tries to evaluate, on the basis of in vitro and animal studies, the potential utility in fibromyalgia of Hypericum Scruglii, an endemic species peculiar to the island of Sardinia. The studies that have verified the antidepressant efficacy of Hypericum Perforatum and the first attempts of its use in fibromyalgia are reported as well as the studies that found the phloroglucinol derivatives from Hypericum longistylum (well-known in traditional Chinese medicine) that facilitate the differentiation of neural progenitor cells, and increase the efficiency of differentiation into serotonergic neurons. The advantage of Hypericum Scruglii may be represented by the anti-oxidant potential revealed to be greater than in other species of the same genus. The paper also describes new approaches to improving the oral bioavailability of very poor water-soluble molecules of hypericum extracts.
References
Carta MG, Moro MF, Pinna FL, Testa G, Cacace E, Ruggiero V, Piras M, Romano F, Minerba L, Machado S, Freire RC, Nardi AE, Sancassiani F. The impact of fibromyalgia syndrome and the role of comorbidity with mood and post-traumatic stress disorder in worsening the quality of life. Int J Soc Psychiatry. 2018 Nov;64(7):647-655. [2] Sancassiani F, Machado S, Ruggiero V, Cacace E, Carmassi C, Gesi C, Dell'Osso L, Carta MG. The management of fibromyalgia from a psychosomatic perspective: an overview. Int Rev Psychiatry. 2017 Oct;29(5):473-488. [3] Yildirim T, Alp R. The role of oxidative stress in the relation between fibromyalgia and obstructive sleep apnea syndrome. Eur Rev Med Pharmacol Sci. 2017 Jan;21(1):20-29. [4] Harris RE, Sundgren PC, Craig AD, Kirshenbaum E, Sen A, NapadowV, Crow DJ. Elevated Insular Glutamate (Glu) in Fibromyalgia (FM) is Associated with Experimental PainArthritis Rheum. 2009 Oct; 60(10): 3146–3152. [5] Foerster BR, Petrou M, Edden RA, Sundgren PC, Schmidt-Wilcke T, Lowe SE, Harte SE, Clauw DJ, Harris RE. Reduced insular γ-aminobutyric acid in fibromyalgia. Arthritis Rheum. 2012 Feb;64(2):579-83. doi: 10.1002/art.33339. [6] Rus A, Molina F, Ramos MM, Martínez-Ramírez MJ, Del Moral ML. Extra Virgin Olive Oil Improves Oxidative Stress, Functional Capacity, and Health-Related Psychological Status in Patients With Fibromyalgia: A Preliminary Study. Biol Res Nurs. 2017 Jan;19(1):106-115. [7] Carta MG, Cardia C, Mannu F, Intilla G, Hardoy MC, Anedda C, Ruggero V, Fornasier D, Cacace E. The high frequency of manic symptoms in fibromyalgia does influence the choice of treatment? Clin Pract Epidemiol Ment Health. 2006 Dec 19;2:36. [8] Carta M, Ruggiero V, Sancassiani F, Cutrano F, Manca A, Peri M, Fais A, Cacace E. The Use of Antidepressants in the Long-Term Treatment Should not Improve the Impact of Fibromyalgia on Quality of Life. Clin Pract Epidemiol Ment Health. 2013 Jul 12;9:120-4. [9] Zirak N, Shafiee M, Soltani G, Mirzaei M, Sahebkar A Hypericum perforatum in the treatment of psychiatric and neurodegenerative disorders: Current evidence and potential mechanisms of action. J Cell Physiol. 2018 Nov 21. doi: 10.1002/jcp.27781. [Epub ahead of print] [10] Ng QX, Venkatanarayanan N, Ho CY. Clinical use of Hypericum perforatum (St John's wort) in depression: A meta-analysis. J Affect Disord. 2017 Mar 1;210:211-221. [11] Silva BA, Ferreres F, Malva GO, Dias ACP ; Phytochemical and antioxidant characterization of Hypericum perforatum alcoholic extracts, Food Chemistry 90 (1-2), 157-167, 2005. [12] Sánchez-Reus MI, Gómez del Rio MA, Iglesias I, Elorza M, Slowing K, Benedí J. Standardized Hypericum perforatum reduces oxidative stress and increases gene expression of antioxidant enzymes on rotenone-exposed rats, Neuropharmacology. 2007 Feb;52(2):606-16 [13] Wang H, Zhang W, Gao Q, Cao X, Li Y, Li X, Min Z, Yu Y, Guo Y, Shuai L. Extractive from Hypericum ascyron L promotes serotonergic neuronal differentiation in vitro. Stem Cell Res. 2018 Aug;31:42-50. doi: 10.1016/j.scr.2018.07.003. Epub 2018 Jul 6. [14] Bostock E, Kirkby K, Garry M, Taylor B, and Hawrelak JA. Mania Associated With Herbal Medicines, Other Than Cannabis: A Systematic Review and Quality Assessment of Case Reports. Front Psychiatry. 2018; 9: 280. [15] Barbenel DM, Yusufi B, O'Shea D, Bench CJ. Mania in a patient receiving testosterone replacement postorchidectomy taking St John's wort and sertraline. J Psychopharmacol (2000) 14:84–6. [16] Fahmi M, Huang C, Schweitzer I. A case of mania induced by hypericum. World J Biol Psychiatry. 2002 Jan;3(1):58-9 [17] Galeotti N. Hypericum perforatum (St John's wort) beyond depression: A therapeutic perspective for pain conditions. J Ethnopharmacol. 2017 Mar 22;200:136-146. doi: 10.1016/j.jep.2017.02.016. Epub 2017 Feb 12. [18] Sanna MD, Ghelardini C, Galeotti N. St. John's Wort Potentiates anti-Nociceptive Effects of Morphine in Mice Models of Neuropathic Pain. Pain Med. 2017 Jul 1;18(7):1334-1343. doi: 10.1093/pm/pnw241. [19] Bacchetta G., Brujio S & Salmieri C (2010) Hypericum scruglii sp. nov. (Guttiferae) from Sardinia. Nordic Journal of Botany, 28 (4): 469-474, 2010. [20] Mandrone M, Scognamiglio M, Fiorentino A, Sanna C, Cornioli L, Antognoni F, Bonvicini F, Poli F. Phytochemical profile and α-glucosidase inhibitory activity of Sardinian Hypericumscruglii and Hypericum hircinum. Fitoterapia. 2017 Jul;120:184-193. doi: 10.1016/j.fitote.2017.06.020. Epub 2017 Jun 21. [21] Pathak K , Raghuvanshi S; Oral Bioavailability: Issues and Solutions via Nanoformulations, Clinical Pharmacokinetics, 2015 Apr;54(4):325-57. [22] Catalán-Latorre A, Pleguezuelos-Villa M, Castangia I, Manca ML, Caddeo C, Nácher A, Díez-Sales O, Esteban Peris J, Pons R, Escribano-Ferrer E, Fadda,AM ,Manconi M. Nutriosomes: prebiotic delivery systems combining phospholipids, a soluble dextrin and curcumin to counteract intestinal oxidative stress and inflammation. Nanoscale, 10, 1957-1969 (2018). [23] Manconi M, Marongiu F, Castangia I, Manca ML, Caddeo C, Tuberoso GIC, D'hallewin G, Bacchetta G, Fadda AM. Polymer-associated liposomes for the oral delivery of grape pomace extract. Colloids Surf. B-Biointerfaces, 146, 910-917 (2016).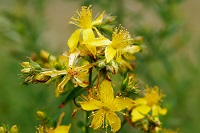 Downloads
How to Cite
1.
Mauro Giovanni Carta, Maria Manconi, Gianluigi Bacchetta, Germano Orru, Maria Cristina Deiddda, Mario Musu, Gabriele Finco. Hypericum scruglii Bacchetta, Brullo & Salmeri, is it a possible natural resource against Fibromyalgia?. ijp [Internet]. 2020 Jun. 30 [cited 2023 Dec. 11];12(2):30-4. Available from: https://ijp.arjournals.org/index.php/ijp/article/view/633
Section
Original Research Articles