Phytochemistry and antibacterial activity of plants extracts compared with two commercial antibiotics against E coli responsible for avian colibacillosis in Benin
Keywords:
Avian colibacillosi, plant extracts, E coli, antibacterial activity
Abstract
Despite its prominent place in development strategies, poultry breeding faces many constraints, including pathological ones. Among pathologies that affect poultry, colibacillosis is one of the most diseases that are communicable to humans and associated with heavy economic losses. To fight efficiently against avian colibacillosis, the work aimed to evaluate antimicrobial potential evaluation of non-volatile extracts of Euphorbia hirta and Psidium guajava, as well as the essential oils of Clausena anisata and Aeollanthus pubescens extracts and two commercial antibiotics namely tetracolivit and Oxytetracyclin against Escherichia coli. To achieve this goal, susceptibility tests were performed on a strain of E. coli using agar diffusion and microdilution methods. Results obtained showed that essential oils from Clausena anisata and non-volatile extracts tested were not active on E coli. However, the essential oils extracted from Aeollanthus pubescens were active on the E. coli with MIC of 0.44 ± 0.21 mg/ml and MBC of 0.87 ± 0.41mg / ml for the oil of the whole part, followed respectively by flower oil (MBC = 0.99 mg/ml) and leaf stem oil (MBC= 1.62 mg / ml). Comparing the activity of the essential oils of Aeollanthus with antibiotics tested, we noticed that tetracolivit was more active with MBC =0.15±0.07mg/ml on E. coli than these extracts which were more active than Oxytetracyclin (MBC=2.34±1.11mg/ml). In sum, the study showed that for a better management of avian collibacillosis in Benin, the tetracolivit is suitable as antibiotic which can be substituted by Aeollanthus pubescens essential oils.
References
Boko MA, Dougnon TV, Bankole SH, Dougnon TJ, Ahouangninou C, Cledjo P, Soumanou M. Pratiques d'élevage avicole au Sud-Bénin (Afrique de l'Ouest) et impacts sur l'hygiène des fumiers produits. Int. J. Biol. Chem. Sci. 2015 ; 9(6): 2740-2753.
Batonon-Alavo DI, Bastianelli D, Chrysostome CAAM, Duteurtre G, Lescoat P. Securing the flows of feed ingredient supplies and commercialization of products in the poultry sector: Case of the egg value chain in Benin [in French]. Rev. Elev. Med. Vet. Pays Trop. 2015 ; 68 (1): 3-18.
FAO. Secteur Avicole Bénin. Revues nationales de l'élevage de la division de la production et de la santé animales de la FAO, 2015.
Abdel-Aziz A. Contribution à la lutte Contre la maladie de Gumboro : détermination du meilleur protocole vaccination à partir des vaccins disponibles sur le marché de Dakar. Thèse de Médecine Vétérinaire de l'EISMV Dakar, Senegal, 2007.
Zerbo LH. Etude préliminaire sur l'utilisation des antibiotiques dans les élevages de poules pondeuses et la présence de résidus d'antibiotiques dans les œufs commercialisés à Ouagadougou (Burkina-Faso). Mémoire de diplôme de Master qualité des aliments de l'homme. Thèse de Médecine Vétérinaire de l'EISMV Dakar, Sénégal, 2014.
Soumaila Garba A. Caractérisation phénotypique et génétique des Escherichia coli isolés des cas de colibacilloses aviaires au Sénégal. Thèse de Médecine Vétérinaire de l'EISMV Dakar, Sénégal, 2012.
Stordeur P, Mainil J. La colibacillose aviaire. Ann. Méd.Vét. 2002 ; 146 : 11-18.
Rahmatallah N, Nassik S, El-Rhaffouli H, Lahlou AI, El-Houadfi M. Détection de souches multi-résistantes d'Escherichia coli d'origine aviaire dans la région de Rabat-Salé-Zemmour-Zaer. Rev. Mar. Sci. Agron. Vét. 2017 ; 5 (2) : 96-102.
Abdallah NB. Isolement et caractérisation de bactéries à fort potentiel probiotique à partir du tractus gastro-intestinal de volaille. Mémoire, Université Laval, 2010.
Sonago R. Le Rôle des Plantes Médicinales en Médecine Traditionnelle. Développement, Environnement et Santé. 10ème école d'été de l'IEPF et SIFEE du 06 au 10 juin, 2006.
Adjalian E, Sessou P, Alitonou GA, Noudogbessi JP, Kossou D, Menut C, Sohounhloue D. Ovicide and Larvicide Activities of the Essential Oils Extracted from Polyalthia longifolia and Clausena anisata on Sitotroga cerealella. Online J. Biol. Sci. 2017 ; 17(3):193-200.
Alitonou G, Tchobo F, Avlessi F, Sohounhloue KD, Menut C. Aeollanthus pubescens Benth. from Benin: A Potential Source of Essential Oil with High Antiradical Efficiency. JEOP. 2013 ; 16 : 308-314.
Yovo M, Alitonou GA, Yedomonhan H, Tchobo F, Dedome O, Sessou P, Avlessi F, Menut C, Sohounhloué D. First report on chemical composition and antimicrobial activity of Artabotrys velutinus Scott-Elliot extracts against Some Clinical Strains in Benin. Am. J. Appl. Chem. 2016 ; 4(3): 71-76.
Wong CC, Li HB, Cheng KW, Chen F. A systematic survey of antioxidant activity of 30 Chinese medicinal plants using the ferric reducing antioxidant power assay. Food Chem. 2006; 97: 705-711.
Enujiugha VN. The Antioxidant and Free Radical- Scavenging Capacity of Phenolics from African Locust Bean Seeds (Parkia biglobosa). Adv. Food Sci. 2010; 32 (2): 88-93.
Lakhdar L. Evaluation de l'activité antibactérienne d'huiles essentielles marocaines sur Aggregatibacter actinomycetemcomitans : Etude in vitro. Thèse de l'Université Mohammed V de Rabat, 2015.
Mamadou Sadou R, Moussa I, Sessou P, Yehouenou B, Agbangnan PDC, Illagouma AT, Abdoulaye A, Sohounhloué DCK, Ikhiri K. Etude phytochimique, activités antiradicalaire, antibactérienne et antifongique d'extraits de Sebastiania chamaelea (L.) Müll. Arg. J. Soc. Ouest-Afr. Chim. 2014 ; 037: 10-17.
Kpadonou-Kpoviessi HGB, Yayi Ladekan E, Kpoviessi SDS, Gbaguidi F, Yehouenou B, Quetin-Leclerq J, Figueredo J, Moudachirou M, Accrombessi CG. Chemical variation of essential oil constituents of Ocimum gratissimum L. from Benin, and impact on antimicrobial properties and toxicity against Artemia salina Leach. Biodiversity &Chemistry. 2012 ; 9 : 139-150.
Ayéna AC, Agassounon DTM, Adoukonou-Sagbadja H, Mensah GA, Agbangla C, Baba-Moussa L, Ahanhanzo C. Potentiels antimicrobiens de Euphorbia hirta L. et de Phyllanthus amarus Schumach & Thonn, deux Euphorbiaceae utilisées dans le traitement des gastroentérites au Sud du Bénin. REMISE. 2017 ; 11(1) : 1-15.
Sadou Nassirou R, Ibrahim ML, Moussa I, Mahamadou B, Ilagouma AT, Abdoulaye A, Ouwe MO, Ikhiri K. Evaluation in vitro de l'activité antiplasmodiale d'extraits de plantes issues de la pharmacopée traditionnelle du Niger: Sebastiania chamaelea (L.) Müll. Arg., Euphorbia hirta L., Cassia occidentalis L. et Cassia nigricans (Vahl) Greene. IJIAS. 2015 ; 10(2) : 498-505.
Gurpreet K, Satnam S, Shubham G, Bhartendu S, Siddiqui A, Ravinesh M. Phytochemical investigation and evaluation of antianxiety activity on Psidium guajava Linn. leaf. World J Pharm Pharm Sci. 2017 ; 6(1) : 1332-1341.
Maïga MA. Etude de la chimie et des activités biologiques de six (6) plantes utilisées dans le traitement traditionnel du diabète : Allium cepa; Allium sativum; Daucus carota; Eucalyptus globulus; Psidium guajava et Solanum melongena. Thèse de l'U.S.T.T-B Mali, 2014.
Chenni M. Etude comparative de la composition chimique et de l'activité biologique de l'huile essentielle des feuilles du basilic ''Ocimum basilicum L.'' extraite par hydro-distillation et par micro-ondes. Thèse de doctorat, Université d'Iran 1 Ahmed BenBella, 2016.
Yovo M. Etude phytochimique et activités biologiques des extraits de plantes médicinales utilisées au Bénin dans le traitement des infections cutanées, urinaires et les septicémies. Thèse de doctorat, Université d'Abomey-Calavi, 2017.
Nikunj BP, Kaushik CP. Antibacterial activity of Euphorbia hirta L. Ethanomedicinal Plant against Gram Negative UTI Pathogens. Int. J. Pharma Res. Allied Sci. 2014 ; 3 (2) :24-29.
Dongmo MCR. Evaluation des activités antidermatophitiques des extraits au méthanol et fractions d'Acalyphamanniana (Euphorbiacées) et Tristemma hirtum (Mélastomatacées). Mémoire de Master de l'Université de Dschang, Cameroun, 2009.
Biswas B, Kimberly R, Fredrick M, Dwayne D, Anand Y. Antimicrobial activities of leaf extracts of guava (Psidium guajava L.) on two gram-negative and gram-positive bacteria. Int. J. Microbiol. 2013 ; Article ID746165.
Suresh K, Deepa P, Harisaranraj R, Vaira AV. Antimicrobial and phytochemical investigation of the leaves of Carica papaya L., Cynodon dactylon (L.) Pers., Euphorbia hirta L., Melia azedarach L. and Psidium guajava L. Ethnobotanical Leaflets, 2008 ; 12: 1184-91.
Osei-Safo D, Addae-Mensah I, Garneau FX, Kossi Koumaglo H. A comparative study of the antimicrobial activity of the leaf essential oils of chemo-varieties of Clausena anisata (Willd.) Hook. f. ex Benth. Ind. Crops Prod. 2010 ; 32 :634–638.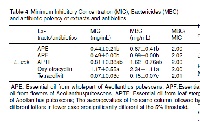 Downloads
How to Cite
1.
Philippe Sessou, Bruno Ayaovi Yaovi, Mahudro Yovo, Judicaël Gamedjo, François Dossa, Oscar Nestor Aguidissou, Kadoeito Cyrille Boko, Guy Alitonou, Souaïbou Farougou, Dominique Sohounhloue. Phytochemistry and antibacterial activity of plants extracts compared with two commercial antibiotics against E coli responsible for avian colibacillosis in Benin. ijp [Internet]. 2018 Sep. 30 [cited 2023 Dec. 11];10(3):168-74. Available from: https://ijp.arjournals.org/index.php/ijp/article/view/605
Section
Original Research Articles