Phytochemical screening and In-vitro antioxidant activity of Centella asiatica extracts
Keywords:
(Butylated hydroxytoluene) BHT, Centella asiatica, 2-2- diphenyl-1-picryl-hydrazyl (DPPH), Phytochemicals
Abstract
Centella asiatica also known as mandukparni or Indian pennywort or jalbrahmi, which has been used as a medicine in the Ayurveda from ancient times and mentioned in many classical texts of Ayurveda. Centella asiatica has long been used to improve memory and cognitive function. The study aimed to identify the phytochemicals present in different solvent extracts of Centella asiatica (i.e. PECA- Petroleum ether extract of C. asiatica, CCA- Chloroform extract of C. asiatica, EACA- Ethyl acetate extract of C. asiatica, ECA- Ethanolic extract of C. asiatica, HACA- Hydro-alcoholic extract of C. asiatica) and evaluate the respective in-vitro antioxidant potentials. The phytochemical screening of extracts was done with standardized procedures and the antioxidant potential of different solvent extracts of Centella asiatica was assessed by its free radical scavenging activity 2, 2-diphenyl -1- picrylhydrazyl (DPPH) as well as hydrogen peroxide scavenging assay respectively for reducing capability. In all different solvent extracts of C. asiatica revealed excellent free radical scavenging activity as revealed by 2-2- diphenyl-1-picryl-hydrazyl (DPPH) assay with EC50 values for ECA=128.752±1.85 μg/ml, HACA=274.884±1.21 μg/ml and hydrogen peroxide assay against the standard (Butylated hydroxytoluene) BHT, with the EC50 values ECA=429.69±0.92 μg/ml HACA=458.08±0.58 μg/ml while rest solvent extracts shown very less antioxidant activity. The present study indicates that the Centella asiatica extracts have good antioxidant activity which can be used in stress and anxiety and also a good source to be used as natural drugs.
References
Leal S, Yassa MA. Perturbations of neural circuitry in aging, mild cognitive impairment, and Alzheimer's disease. Ageing Res. Rev. 2013;12:823–831.
Oberman L, Pascual-Leone A. Changes in plasticity across the life span: cause of disease and target for intervention. Prog. Brain Res. 2013;207:91–121.
Shinomol GK, Muralidhara MM. Bharath, Exploring the role of "Brahmi"(Bocopa monnieri and Centella asiatica) in brain function and therapy, Recent Pat. Endocr. Metab. Immune Drug Discov. 2011;5:33–49.
Hashim P, Sidek H, Helan MHM, Aidawati S, Palanisamy UD, Ilham M. Triterpene composition and bioactivities of Centella asiatica. Molecules. 2011;16:1310–1322.
Idrus RBH, Chowdhury SR, Manan NABA, Fong OS, Adenan MI, Saim AB. Aqueous extract of Centella asiatica promotes corneal epithelium wound healing in vitro. Journal of Ethnopharmacology. 2012;140:333–338.
Savithramma N, Linga Rao M, Ankanna S. Phytochemical screening of traditional medicinal plants Journal of Pharmacy Research. 2011;4(10):3414-3416.
Mensor LL, Menezes FS, Leitao GG, Reis AS, Dos Santos TC, Coube CS & Leitao SG. Screening of Brazilian plant extracts for antioxidant activity by the use of DPPH free radical method. Phytother Res. 2001;15:127-130.
Ruch RT, Cheng SJ, Klaunig JE. Spin trapping of superoxide and hydroxyl radicals, methods in enzymology; 1984;105:198-209.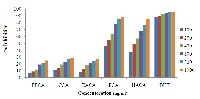 Downloads
How to Cite
1.
Mukesh Kumar Yadav, Santosh Kumar Singh, JS Tripathi, YB Tripathi. Phytochemical screening and In-vitro antioxidant activity of Centella asiatica extracts. ijp [Internet]. 2017 Dec. 31 [cited 2023 Nov. 30];9(4):615-8. Available from: https://ijp.arjournals.org/index.php/ijp/article/view/575
Section
Original Research Articles