In vitro antioxidant activities of stem bark, leaves and callus extracts from Amoora rohituka
Keywords:
Amoora rohituka, Antioxidant activity, Petroleum ether,, Chloroform and Methanol
Abstract
The present work examined the in vitro antioxidant activity of sequentially extracted, solvent extracts (Petroleum ether, chloroform and Methanol) of stem bark, leaves and callus from Amoora rohituka. The antioxidative capacity of the extracts were examined by using DPPH (1,1-diphenyl,2-picryl hydrazyl), ABTS (2,2'-azinobis-3-ethyl-benzothiozoline-6-sulphonic acid) and NOS (Nitric oxide scavenging) assays by using Gallic acid as standard control. Among the tested extracts, methanol extract of stem bark showed better antioxidative capacity. The total antioxidant activity was expressed as µg equivalent of Gallic acid per gram on dry weight basis. IC50 values for methanol extract of stem bark were 7.53 µg/ml; 34.92 µg/ml and 56.31 µg/ml in ABTS, DPPH and NOS assays respectively. Whereas, leaves and callus extracts showed moderate antioxidative properties.
References
Harman D. Role of antioxidant nutrients in aging: overview. Age.1995;18:51–62.
Diaz MN, Frei B, Vita JA and Keaney JF. Antioxidants and atherosclerotic heart disease. New England Journal of Medicine. 1997; 337:408–416.
Head KA and Vitamin C: antioxidant or pro-oxidant in vivo. Free Radical Research. 1998;25: 439–454.
Edge R, Mcgarvey DJ and Truscott TG. The carotenoids as antioxidants–a review. Journal of Photochemistry and Photobiology: Biology.1997;41:189–200.
Zhang HY and Wang LF. Theoretical elucidation on structure antioxidant activity relationships for indolinonichydroxylamines. Bioorganic and Medicinal Chemistry Letters. 2002;12:225–227.
Sanchez-Moreno C, Larrauri JA and Saura-Calixto F. A procedure to measure the antiradical efficiency of polyphenols. Journal of the Science of Food and Agriculture.1998;76:270–276.
Robards K, Prenzler PD, Tucker G, Swatsitang P and Glower W. Phenolic compounds and their role in oxidative processes in fruits. Food Chemistry. 1999;66:401–436.
Chowdhury R and Rashid RB. Effect of the crude extracts of Amoorarohituka stem bark on gastrointerstinal transit in mice. Indian Journal of Pharmacology. 2003;35:304-307.
Srivastava SK and Agnihotri VK. New glycosides from the stem bark of Aphanamixispolystachya. Current Science.1985;54:38-40.
Rabi T and Gupta RC. Antitumor and cytotoxic investigation of Amoorarohituka. International Journal of Pharmacognosy .1995; 33:359-361.
Jagetia GC and Venkatesha VA. Enhancement of radiation effect by Aphanamixispolystachya in mice transplanted with Ehrlich ascites carcinoma. Environmental and molecular mutagenesis. 2005; 46:12-21.
Polonsky J, Varon Z, Marazano C, Arnoux B, Pettit GR and Schmid JM. The structure of amoorastatone and the cytotoxic limonoid 12 –hydroxyamoorastatin. Experientia. 1979;35:987-989.
Mulholland DA and Naidoo N. Limonoids from Aphanamixispolystachya.Phytochemistry .1999;51:927-930.
Jain SA and Srivastava SK. 8-C-methyl-quercetin-3-O-beta-D-xylopyranoside, a new flavones glycoside from the roots of Amoorarohituka. Journal of National Products .1985;48:299-301.
Jagetia GC, Venkatesha VA and Reddy TK. Naringin, a citrus flavonone, protects against radiation-induced chromosome damage in mouse bone marrow. Mutagenesis. 2003;18:337-343.
Murashige T and Skoog F. A revised medium for rapid growth and bioassay with tobacco tissue culture. Physiology of plant .1962; 15:473-497.
Vani T, Rajini M, Sarkar S and Shishoo CJ. 'Antioxidant properties of the Ayurvedic formulation-Triphala and its constituents'. Int. J. Pharmac. 1997;35(5):313-317.
Auddy B, Ferreira M, Blasina F, Lafon L, Arredondo F, Dajas F, Tripathi PC, Seal T and Mukherjee B. Screening of antioxidant activity of Three Indian medicinal plants traditionally used for the management of neurodegenerative diseases. J. Ethnopharmacol. 2003;84:131-138.
Shreejayan N and Rao MNA. Nitric oxide scavenging by curcuminoids. J. Pharm. Pharmacol. 1997;49: 105-107.
Shirwaikar Annie, Kirti S Prabhu and Punitha ISR. In vitro antioxidant studies of Sphaeranthusindicus (Linn). Indian Jounral of Experimental Biology. 2006;44:993-996.
Yoshie Y, Wang W, Hsieh YP and Suzuki T. Compositional difference of phenolic compounds between two seaweeds, Halimeda spp. Journal Tokyo University of Fisheries. 2002;88:21–24.
Tepe B, Daferera D, Sokmen A, Sokmen M and Polissiou M. Antimicrobial and antioxidant activities of the essential oil and various extracts of Salvia tomentosa Miller (Lamiaceae). Food Chemistry. 2005;90:333–340.
Siriwardhana N, Lee KW, Kim SH, Ha JW and Jeon YJ. Antioxidant activity of Hizikiafusiformis on reactive oxygen species scavenging and lipid peroxidation inhibition. Food Science and Technology International. 2003;9: 339–347.
Jagetia GC and Venkatesha VA. Treatment of mice with stem bark extract of Aphanamixispolystachya reduces radiation-induced chromosome damage. Int. J Radiat. Biol. 2006;82(3):197-209.
Shreejayan N and Rao MNA. Free Radical scavenging activity of curcuminoids, Drug Res. 1996; 46:169.
Awika JM, Rooney LM, Wu X, Prior RL and Cisneros-Zevallos L. Screening methods to measure antioxidant activity of sorghum (Sorghum bicolor) and sorghum products. J. Agric. Food Chem. 2003;51:6657-6662.
Gibananada J and Husain SA. Oxidants, antioxdiants and carcinogenesis. Indian J Exp Biol. 2002;40:1214.
Moncada S, Palmer RM and Higgs EA. Nitric oxide: physiology, pathophysiology and pharmacology. Pharmacological Reviews. 1991;43:109–142.
Radi R, Beckman JS, Bush KM and Freeman BA. Peroxynitrite oxidation of sulfhydryls. Journal of Biological Chemistry. 1991;266: 4244–4250.
Yermilov V, Rubio J, Becchi M, Friesen MD, Pignatelli B and Ohshima H. Formation of 8- nitroguanine by the reaction of guanine with peroxynitrite in vitro. Carcinogenesis. 1995;16:2045–2050.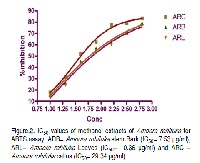 Downloads
How to Cite
1.
Kanthesh M Basalingappa, Kavitha Raj V, Avinash KO, Kumar JR, Murugesan Karthikeyan, Ashok Gnanasekaran, Chandrashekrappa GK. In vitro antioxidant activities of stem bark, leaves and callus extracts from Amoora rohituka. ijp [Internet]. 2017 Dec. 31 [cited 2023 Nov. 30];9(4):584-8. Available from: https://ijp.arjournals.org/index.php/ijp/article/view/571
Section
Original Research Articles