Prophylactic effect of herbal extracts on LPS-induced inflammatory response in rat hepatocytes
Keywords:
Berberis vulgaris, Calluna vulgaris, Lipopolysaccharide, COX-2, i-NOS, TNF-α
Abstract
Background: Liver is participating in the clearance of the infectious agents mainly by Kupffer cells and to a lesser extent by sinusoidal endothelial cells and hepatocytes. Lipopolysaccharide (LPS), a major component of bacteria cell wall, is an endotoxin translocated from the gut; inducing oxidative stress and acute inflammation in hepatocytes. This study aimed to highlight the prophylactic effect of naturally occurring products (B. vulgaris and C. vulgaris) against LPS-induced toxicity. Methods: RT-PCR was performed using RNA extracted from rat hepatocytes as template to determine the gene expression of COX-2, i-NOS and TNF-α. Results: B. and C. vulgaris showed a noticeable improvement in maintaining COX-2, i-NOS and TNF-α at their basal expression level; even under LPS stimulation. However, the efficacy of C. vulgaris was better than B. vulgaris. In conclusion, LPS-induced inflammatory response to rat hepatocytes could be inhibited by B. and C. vulgaris as naturally occurring prophylactics.
References
. Eduardo Madrigal-Santillán, Eduardo Madrigal-Bujaidar, Isela Álvarez-González, María Teresa Sumaya-Martínez, José Gutiérrez-Salinas, et al. Review of natural products with hepatoprotective effects. World J Gastroenterol 2014; 20(40): 14787-14804.
. Olawale Razaq Ajuwon, Oluwafemi Omoniyi Oguntibeju and Jeanine Lucasta Marnewick. Amelioration of lipopolysaccharide-induced liver injury by aqueous rooibos (Aspalathus linearis) extract via inhibition of pro-inflammatory cytokines and oxidative stress. BMC Complementary and Alternative Medicine 2014; 14:392.
. Aggarwal, B.B. and Natarajan, K. Tumor necrosis factors: developments during the last decade. Eur. Cytokine Netw. 1996; 7: 93-124.
. Hempel, S.L.; Monick, M.M.; He, B.; Yano, T. and Hunninghake, G.W. Synthesis of prostaglandin H synthase-2 by human alveolar macrophages in response to lipopolysaccharide is inhibited by decreased cell oxidant tone. J. Biol. Chem. 1994; 269: 32979-32984.
. Kerwin, J.F.; Lancaster, J.R. and Feldman, P.F. Nitric oxide: a new paradigm for second messengers. J. Med. Chem. 1995; 38: 4343-4362.
. Akarasereenont, P.; Bakhle, Y.S.; Thiemermann, C. and Vane, J.R. Cytokine mediated induction of cyclo-oxygenase-2 by activation of tyrosine kinase in bovine endothelial cells stimulated by bacterial lipopolysaccharide. Br. J. Pharmacol. 1995; 115: 401-408.
. Ramadori, G. and Ambrust, T. Cytokines in the liver. Eur. J. Gastroenterol. Hepatol. 1999; 13: 777-784.
. Arayne, M.S.; Sultana, N. and Bahadur, S.S. The berberis story: Berberis vulgaris in herapeutics. Pak. J. Pharm. Sci. 2007; 20(1): 83-92.
. Tunon, H.; Olavsdotter, C. and Bohlin, L. Evaluation of anti-inflammatory activity of some Swedish medicinal plants. Inhibition of prostaglandin biosynthesis and PAF-induced exocytosis. J. Ethnopharmacol. 1995; 48: 61-76.
. Mirzaei, A.; Hedayati, M.; Reza, H.; Ashtiani, A.; Rahbar, M. and Rastegar, H. A simple method for non phenolic extraction of lipopolysaccharide from Salmonella typhimurium and Salmonella enteritidis with high purity and pyrogenicity in rat. Scientific Research and Essays 2011; 6(5): 1101-1105.
. El-Sayed, M.; Ghareeb, D.; Khalil, A. and Sarhan, E. The therapeutic bio-screening. Functional Plant Science and Bioechnology. Global Science Book 2010; 5: 63-68.
. Montgomery, H. and Dymock, J. The determination of nitrite in water. Analyst. 1961; (86): 414-419.
. Tappel, L. and Zalkin, H. Inhibition of lipid peroxidation in mitochondria by vitamin E. Archives of Biochemistry and Biophysics 1959; 80: 333-336.
. Litwack, G.; Bothwell, J.W.; Williams, J.N. and Elvehjem, Jr.C.A. A colorimetric assay for xanthine oxidase in rat liver homogenates. J. Biol. Chem. 1953; 200:303-310.
. Jollow, D.; Mitchell, J.; Zampaglione, N. and Gillette, J. Bromobenze induced liver necrosis: protective role of glutathione and evidence for 3,4-bromobenzenoxide as the hepatotoxic intermediate. Pharmacology 1974; 11: 151-169.
. Habig, H.; Pabst, G. and Jakoby, B. Glutathion-S-transferase. The first enzymatic step in mercapturic acid formation. J. Biol. Chem. 1974; 249: 7130-7139.
. Marklund, S. and Marklund, G. Involvement of the superoxide anion radical in the autooxidation of pyrogallol and a convenient assay for superoxide dismutase. Eur. J. Biochem. 1974; 74: 469-474.
. Alessandra K. Cardozo, Mogens Kruhøffer, Ruth Leeman, Torben Ørntoft, and De´cio L. Eizirik. Identification of Novel Cytokine-Induced Genes in Pancreatic b Cells by High-Density Oligonucleotide Arrays. DIABETES 2001; 50: 909-920.
. Wakefield AE, Pixley FJ, Banerji S, Sinclair K, Miller RF, Moxon ER, Hopkin JM. Detection of Pneumocystis carinii with DNA amplifi cation. Lancet 1990; 336:451–3.
. Carleton, H.M. and Drury, R.A.B. Histological techniques for normal and pathological tissues and the identification of parasites. 3rd ed. Oxford University Press, London. 1957; 1-74.
. Kim, S.K. and Kim, Y.C. Attenuation of bacterial lipopolysaccharide-induced hepatotoxicity by betaine or taurine in rats. Food and Chemical Toxicology 2002; 40: 545-549.
. Robertson, C.M. and Coopersmith, C.M. The systemic inflammatory response syndrome. Microbes Infect. 2006; 8(5): 1382-1389.
. Kallapura, G.; Pumford, N.R.; Hernandez-Velasco, X.; Hargis, B.M. and Tellez. G. Mechanisms Involved in Lipopolysaccharide Derived ROS and RNS Oxidative Stress and Septic Shock. Journal of Microbiology Research and Reviews 2014; 2(1): 6-11.
. Sies, H. Oxidative stress: oxidants and antioxidants. Exp. Physiol. 1997; 82: 291-295.
. Hsiang, C.Y.; Wu, S.L.; Cheng, S.E. and Ho, T.Y. Acetaldehyde-induced interleukin-1beta and tumor necrosis factor-alpha production is inhibited by berberine through nuclear factor-kappaB signaling pathway in HepG2 cells. J. Biomed. Sci. 2005; 12: 791-801.
. Jeong, H.W.; Hsu, K.C.; Lee, J.W.; Ham, M.; Huh, J.Y.; Shin, H.J.; Kim, W.S. and Kim, J.B. Berberine suppresses pro-inflammatory responses through AMPK activation in macrophages. Am. J. Physiol. Endocrinol. Metab. 2009; 296: 955-964.
. Lee, K.M.; Lee, K.W. and Jung, S.K. Kaempferol inhibits UVB induced COX-2 expression by suppressing Src kinase activity. Biochem. Pharmacol. 2010; 80: 2042-2049.
. Chen, C.; Yu, R.; Qwuor, E.D. and Kong, N.T. Activation of antioxidant-response element (ARE), mitogen-activated protein kinases (MAPKs) and caspases by major green tea polyphenol components during cell survival and death. Arch. Pharm. Res. 2000; 23: 605-612.
. Hayes, J.D. and Pulford, D.J. The glutathione S-transferase supergene family: regulation of GST and the contribution of the isoenzymes to cancer chemoprevention and drug resistance. Crit. Rev. Biochem. Mol. Biol. 1995; 30: 445-600.
. Reddy, M.M.; Mahipal, S.V.; Subhashini, J.; Reddy, M.C.; Roy, K.R.; Reddy, G.V.; Reddy, P.R. and Reddanna, P. Bacterial lipopolysaccharide-induced oxidative stress in the impairment of steroidogenesis and spermatogenesis in rats. Reprod. Toxicol. 2006; 22: 493-500.
. Zha, R.P.; Xu, W.; Wang, W.Y.; Dong, L. and Wang, Y.P. Prevention of lipopolysaccharide-induced injury by 3,5-dicaffeoylquinic acid in endothelial cells.Acta. Pharmacol. Sin. 2007; 28(8): 1143-1148.
. Arivarasu, N.A.; Priyamvada, S. and Mahmood, R. Caffeic acid inhibits chromium (VI)-induced oxidative stress and changes in brush border membrane enzymes in rat intestine. Biol Trace Elem Res. 2012; 148(2): 209-15.
. Clancy, R.M.; Levartovsky, D.; Piziak, J.L.; Yegudin, J. and Abramson, S.B. Nitic oxide reacts with intracellular glutathione and activates the hexose monophosphate shunt in human neutrophils: Evidence for S-nitrosoglutathione as a bioactive intermediatry. Proc. Natl. Acad. Sci. U.S.A. 1994; 91: 3680-3684.
. Filip, A.; Clichici, S.; Daicoviciu, D.; Bolfa, P.; Postescu, I.D.; Gal, A.; Baldea, I.; Gherman, C. and Muresan, A. Chemopreventive effects of Calluna Vulgaris and Vitis vinifera extracts on UVB-induced skin damage in SKH-1 hairless mice. J. Physiol. Pharmacol. 2011; 62: 385-392.
. Godber, B.L.; Doel, J.J.; Sapkota, G.P.; Blake, D.R.; Stevens, C.R.; Eisentha, R. and Harrison, R. Reduction of nitrite to nitric oxide catalyzed by xanthine oxidoreductase. J. Biol. Chem. 2000; 275: 7757-7763.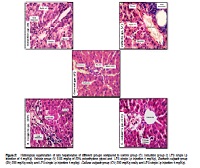 Downloads
How to Cite
1.
Mohamed S. Abdel-Latif, Alaa Hegazy, Sofia Khalil, Doaa Ghareeb. Prophylactic effect of herbal extracts on LPS-induced inflammatory response in rat hepatocytes. ijp [Internet]. 2017 Mar. 31 [cited 2023 Nov. 30];9(1):20-8. Available from: https://ijp.arjournals.org/index.php/ijp/article/view/509
Section
Original Research Articles