Genotoxic evaluations in Wistar rats of the hallucinogenic plant extract ayahuasca
Keywords:
ayahuasca, genotoxicity, cytotoxicity, serum biochemistry, hematological disturbances
Abstract
Ayahuasca, a psychoactive infusion, is a sacrament used by indigenous and non-indigenous communities in Brazil and other countries. This beverage has vaunted healing properties; however, its use in a therapeutic context still lacks preclinical data to certify its safety and effectiveness. This study evaluated the genotoxic, mutagenic and cytotoxic potential of ayahuasca in Wistar rats after a single oral dose. Rats of both sexes were randomly distributed into five experimental groups (n=10): negative control that received filtered water, positive control that received doxorubicin and treated groups that received ayahuasca at 1, 5 and 15 times the usual dose taken in human religious rituals. The rats were euthanized 30 hours after dosage. Genotoxicity was evaluated by flow cytometry, comet assay and micronucleus test. Renal, hepatic and pancreatic functions were evaluated by serum analysis. Ayahuasca showed low genotoxicity, with an increased frequency of micronuclei only at the highest exposure level, and a non-observed-adverse-effect-level established at 5X the dose, or 1.5 mg/kg bw N,N-dimethyltryptamine a major component of the infusion. No cytotoxic effects were observed in the tested conditions. Furthermore, hepatic, renal and pancreatic functions remained without significant changes for all treated groups.
References
Martinez ST, Almeida MR. Pinto AC. Alucinógenos naturais: um voo da Europa Medieval ao Brasil. Quím. Nova. 2009; 32:2501-2507.
Labate B, Feeney K. Ayahuasca and the process of regulation in Brazil and internationally: implications and challenges. Int. J. Drug Policy. 2012; 23:154–161.
Tupper KW. The globalization of ayahuasca: harm reduction or benefit maximization? The Int. J. Drug Policy. 2008; 19:297-303.
Halpern JH. Hallucinogens and dissociative agents naturally growing in the United States. Pharmacology and Therapeutics. 2004; 102:131-138.
CONAD. Conselho Nacional de Políticas sobre Drogas. Resolution N.1, Jan 25, 2010.
Kavenská V, Simonová H. Ayahuasca Tourism: Participants in Shamanic Rituals and their Personality Styles, Motivation, Benefits and Risks, J. Psychoactive Drugs. 2015; 29:1-9.
Callaway JC, McKenna D, Grob CS, Brito G, Raymon L, Poland R, et al. Pharmacokinetics of Hoasca alkaloids in healthy humans. J. of Ethnopharmacology. 1999; 65:243-56.
Riba J, McIlhenny EH, Valle M, Bouso JC, Barker SA. Metabolism and disposition of N,N-dimethyltryptamine and harmala alkaloids after oral administration of ayahuasca. Drug Test Anal. 2012; 4:610-6.
Brierley DI, Davidson C. Developments in harmine pharmacology — Implications for ayahuasca use and drug-dependence treatment. Progress in Neuro-Psychopharmacology and Biological Psychiatry. 2012; 39:263-72.
Callaway JC, Grob CS. Ayahuasca preparations and serotonin reuptake inhibitors: a potential combination for severe adverse interactions. J. of Psychoactive Drugs. 1998; 30:367-9.
Fábregas JM, González D, Fondevila S, Cutchet M, Fernández X, Barbosa PCR, et al. Assessment of addiction severity among ritual users of ayahuasca. Drug and Alcohol Dependence. 2010; 111:257-61.
Thomas G, Lucas P, Capler NR, Tupper KW, Martin G. Ayahuasca-assisted therapy for addiction: results from a preliminary observational study in Canada. Current Drug Abuse Reviews. 2013; 6:30-42.
Sanches RF, de Lima Osório F, Dos Santos RG, Macedo LR, Maia-de-Oliveira JP, Wichert-Ana L, de Araujo DB, Riba J, S Crippa JA, Hallak JE. Antidepressant Effects of a Single Dose of Ayahuasca in Patients With Recurrent Depression: A SPECT Study. J. Clin. Psychopharmacol 2015 Dec 8. [Epub ahead of print]
Schenberg EE. Ayahuasca and cancer treatment, SAGE Open Medicine 1 2013; doi: 10.1177/2050312113508389.
Wang P, Alvarez-Perez JC, Felsenfeld DP, Liu H, Sivendran H, Bender A, Kumar A, Sanchez AR, Scott DK, Garcia-Ocaña A, Stewart AF. A high-throughput chemical screen reveals that harmine-mediated inhibition of DYRK1A increases human pancreatic beta cell replication. Nature Medicine. 2015; 21:383-388.
Pic-Taylor A, Motta LG, Morais JA, Junior WM, Santos AFA, Campos LA, Mortari MR Zuben MZ, Caldas ED. Behavioural and neurotoxic effects of ayahuasca infusion (Banisteriopsis caapi and Psychotria viridis) in female Wistar rat. Behavioural Processes. 2015; 118:102–110.
Singh NP, McCoy MT, Tice RR, Schneider EL. A simple technique for quantitation of low levels of DNA damage in individual cells. Experimental Cell Res. 1988; 175:184-91.
Tice R, Agurell R, Anderson D, Burlinson B, Hartmann A, Kobayashi H, Miyamae Y, Rojas E, Ryu JC, Sasaki YF. Single cell gel/comet assay: guidelines for in vitro and in vivo genetic toxicology testing. Environ. Mol. Mutagen. 2000; 35:206-21.
Smith CC, Adkins DJ, Martin EA, O'Donovan MR. Recommendations for design of the rat comet assay. Mutagenesis. 2000; 23:233-40.
OECD 474. OECD Guideline for the Testing of Chemicals 1997.
Romagna F, Staniforth Cd. The automated bone marrow micronucleus test. Mutat. Res. 1989; 213:91-104.
Krishna G, Hayashi M. In vivo rodent micronucleus assay: protocol, conduct and data interpretation. Mutat. Res. 2000; 455:155-66.
Edenharder R, Sager JW, Glatt H, Muckel E, Platt KL. Protection by beverages, fruits, vegetables, herbs, and flavonoids against genotoxicity of 2-acetylaminofluorene and 2-amino-1-methyl-6-phenylimidazo[4,5-b]pyridine (PhIP) in metabolically competent V79 cells. Mutat. Res. 2002; 521:57–72.
McKenna DJ, Towers GHN, Abbott F. Monoamine oxidase inhibitors in South American hallucinogenic plants: triptamine and β-carboline constituents of ayahuasca. J. Ethnopharmacol. 1984; 10:195-223.
McKenna DJ. Clinical investigations of the therapeutic potential of ayahuasca: rationale and regulatory challenges. Pharmacol. Therapeutics 2004; 102:111-118.
De Meester C. Genotoxic potential of β-carbolines: a review. Mutat. Res. 1995; 339:139-153.
Boeira JM, da Silva J, Erdtmann B, Henriques JAP. Genotoxic effects of the alkaloids harman and harmine assessed by comet assay and chromosome aberration test in mammalian cells in vitro. Pharmacology and Toxicology. 2001; 89:287-294.
Boeira JM, Viana AF, Picada JN, Henriques JAP. Genotoxic and recombinogenic activities of the two β-carboline alkaloids harman and harmine in Saccharomyces cerevisiae. Mutat. Res. 2002; 500:39-48.
Picada J, da Silva J, Erdtmann B, Henriques JPA. Genotoxic effects of structurally related β-carboline alkaloids. Mutat. Res. 1997; 379:135-149.
Moura DJ, Richter MF, Boeira JM, Henriques JPA, Saffi J. Antioxidant properties of β-carboline alkaloids are related to their antimutagenic and antigenotoxic activities. Mutagenesis. 2007; 22:293-302.
Chen Q, Chao R, Chen H, Hou X, Yan H, Zhou S, Peng W, Xu A. Antitumor and neurotoxic effects of novel harmine derivatives and structure‐activity relationship analysis. Int. J. of Cancer. 2005; 114:675-682.
Snyder RD, Possible structural and functional determinants contributing to the clastogenicity of pharmaceuticals. Environ. Mol. Mutagen. 2010; 51:800–814.
Jiménez J, Riverón-Negrete L, Abdullaev F, Espinosa-Aguirrec J, Rodríguez-Arnaiza F. Cytotoxicity of the b-carboline alkaloids harmine and harmaline in human cell assays in vitro, Experimental and Toxicologic Pathology. 2000; 60: 381–389.
Riba J, Rodríguez-Fornells A, Urbano G, Morte A, Montero RAM, Callaway JC, Barbanoj MJ. Subjective effects and tolerability of the South American psychoactive beverage Ayahuasca in healthy volunteers Psychopharmacology. 2001; 154:85-95.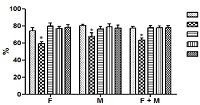 Downloads
How to Cite
1.
Aline Pic-Taylor, Willian Melo Junior, José Souza-Filho, Cesar Koppe Grisolia, Eloisa Dutra Caldas. Genotoxic evaluations in Wistar rats of the hallucinogenic plant extract ayahuasca. ijp [Internet]. 2016 Jun. 30 [cited 2023 Nov. 29];8(2):249-56. Available from: https://ijp.arjournals.org/index.php/ijp/article/view/464
Section
Original Research Articles