Antibacterial Potency and Phytochemical Screening of the Bark of Terminalia catappa Against some Clinical Isolates
Keywords:
Ethyl-acetate extract, aqueous extract, Terminalia catappa, phytochemicals
Abstract
To evaluate the antibacterial properties of ethyl acetate and aqueous extracts of the bark of Terminalia catappa against some clinical isolates. The antibacterial activity of the T. catappa bark extracts was evaluated against five bacterial clinical isolates which are Escherichia coli, Staphylococcus aureus, Salmonella typhi, Pseudomonas aeruginosa and Klebsiella pneumoniae using agar-well diffusion method. The minimum inhibitory concentration was done by the broth dilution method. Broad spectrum antibiotics were used as positive control for the antibiotic sensitivity test. Qualitative and quantitative phytochemical screening of T. catappa bark were carried out using standard methods. However, ethyl-acetate and aqueous extracts of Terminalia catappa bark both showed that K. pneumoniae was more sensitive compared with E. coli, S. typhi, S. aureus and P. aeruginosa. Antibacterial activity of the ethyl acetate and aqueous extracts showed the value range from 10.33 ± 0.58 mg/ml to 9.33 ± 0.60 mg/ml. Ethyl-acetate extract showed minimum inhibitory concentration (MIC) at 80 mg/ml while the aqueous extract shows MIC at the concentration of 100 mg/ml. However the minimum bactericidal concentration (MBC) of ethyl-acetate extract against the clinical isolates was at the concentration of 100 mg/ml while there was no minimum bactericidal concentration (MBC) for the aqueous extract. Phytochemical screening shows the presence of saponins, glycosides, and alkaloids, in larger quantity while flavonoids, tannins, and steroids in smaller quantity. This study indicates that the extracts were efficacious and can be used for the management of diseases caused by the tested organisms. Results obtained support the use of this plant as use in traditional medicine and support that the plant extracts possess compounds with good antimicrobial properties that can be used as antimicrobial agents in the search for new antimicrobial drugs.
References
Sofowora EA. The state of Medicinal Plants Research in Nigeria. University Press, Ibadan, Nigerian 1986.
Iwu K, Jagtap AG, Karkera SG. Potential of the aqueous extract of Terminalia chebula as an anticaries agent. J. Ethnopharma. 1999; 68 (1-3):299-306.
Sofowora EA. Medicinal Plants and Traditional Medicine in Africa, Spectrum books ltd, Ibadan, 1993; 172-188
Baba Moussa F, Akpagana K, Bouchet P.. Antifungal activities of seven West African combretaceae used in traditional medicine.Journal of Ethnopharmacology. 1999; 66(3) 335 – 338.
Parekh J, Chanda S. Efficacy, safety, quality control, marketing and regulatory guidelines for herbal medicines (phytotherapeutic agents). Brazilian Journal of Medical and Biological Research 2006;33: 179-189.
Krishnaraju P, Tagoe DN, Nyarko HD, Akpaka R. A comparison of the antifungal properties of onion (Allium cepa), Ginger (Zingiber officinale) and garlic (Allium sativum) against Aspergillus flavus, Aspergillus niger and Cladosporium herbarum. Res. J. Med. Plant, 2011; 5: 281-287.
Okorondu SI, Braide W, Ogbulie TE, Akujobi CO. Antimicrobial and phytochemical property of some traditional spices. Nigeria Journal of Microbiology 2006); 20(3) 301 -304
Pankaj O, Robert E, Paul P. West Indian Almond Terminalia capata L.Combretaceae, 2008; 2:273-276.
Nagappa AN, Thakurdesai PA, Venkat-Rao N, Singh J. Antidiabetic activity of Terminalia catappa Linn fruits J. Ethnopharmacol. 2003; 88 (1): 45-50.
Fawole MO, Oso BA. Manual in Microbiology. New spectrum books publisher, Ibadan, Nigeria. 2007
Mackie TJ, McCartney JE. Mackie and McCartney Practical Medical biology. (Eds.) Fraser CJG, Marmion AG, Simmons BP. 19th edition. 1996; 883-918.
Cheesbrough M. District laboratory practice in tropical countries. Cambridge University press, London. 2002; 2:137-140.
Abah SE, Egwari LO. Methods of extraction and antimicrobial susceptibility testing of plant extracts. African Journal of Basic and Applied Sciences 2011; 3(5): 205-209
.
CLSI. Methods for Dilution Antimicrobial Susceptibility Tests for Bacteria That Grow Aerobically; Approved Standard—Ninth Edition. CLSI document M07-A9.: Clinical and Laboratory Standards Institute. 2012
Ikenebome MJ, Metitiri PO. Phytochemical Screening and Antimicrobial Activities of Terminalia catappa, Leaf Extracts. Biokemistri Nigerian Journal of Microbiology, 1998; 8, 12-33.
Harborne JB. Phytochemical methods, London. Chapman and Hall, Ltd. 1973; 49-188.
Odebiyi OO, Sofowora EA. Phytochemical screening of Nigerian Medicinal plants II. Lloydia. 1978; 41(3): 234-236.
Padmaja G. Evaluation of techniques to reduce assayable tannin and cyanide in cassava leaves. J Agric. food chem; 1989; 37: 712-716.
Kale A, Gaikwad S, Mundhe K. Quantification of Phenolics and Flavonoids by Spectrophotometer From –Juglans regia. Int J Pharm Biol Sci; 2010; 1: 1-4.
Makkar HPS, Siddhuraju P, Becker K. Plant secondary metabolites. Humana Press Inc., Totowa, NJ, USA, 2007.
Singh DK, Srivastva B, Sahu A. Spectrophotometric determination of Rauwolfia alkaloids, estimation of reserpine in pharmaceuticals. Anal Sci 2004; 20: 571-573.
El-Olemy MM, Al-Muhtadi FJ and A-FA Afifi. Experimental Phytochemistry: A Laboratory Manual. King Saud University Press. Saudi Arabia, 1994: 21 – 27.
Nair R, Chanda S. Antimicrobial Activity of Terminalia catappa, Manilkara zapota and Piper betel Leaf Extract. Indian J Pharm Sci.May-Jun ; 2008; 70(3) : 390–393.
Ackah J, Kra Akm, Zirihi GN, Guede-Guina. F. Évaluation et essays d'optimisations de l'activité anticandidosique de Terminalia Catappa linn (tekam3), un extrait de combretaceae de la pharmacopée ivoirienne. Bulletin de la Société Royale des Sciences de Liège, 2008; 120 - 136
Masoko P, Mmushi TJ, Mogashoa MM, Mokgotho MP, Mampuru LJ, Howard RL. In vitro evaluation of the antifungal activity of Sclerocarya birrea extracts against pathogenic yeasts. Afr. J. Biotechnol. 2008; 7(20): 3521-3526.
Babayi H, Kolo I, Okogun JI, Ijah UJ. The antimicrobial activities of methanolic extracts of Eucalyptus camaldulensis and Terminalia catappa against some pathogenic microorganisms Biokemistri 2004; 16(2): 106-111.
Mbengui DR, Guessennd KN, M'Boh GM, Golly KJ, Okou OC, N'Guessan JD, Dosso M, Djaman AJ. Phytochemical screening and study of comparative antibacterial activity of aqueous and alcoholic extracts of the leaves and barks of Terminalia catappa on multiresistant strains. J. Appl. Biosci. 2013; 66:5040-5048.
Marmonier AA. Introduction aux techniques d'étude des antibiotiques. Bactériologie Médicale, technique usuelles. 1990 ; 227 – 236.
Pawar SP. Pal SC. Antimicrobial activity of extracts of Terminalia catappa root. Indian J Med Sci, 2002; 56:276-8.
Manzur A, Raju A. Rahman S. Antimicrobial Activity of Terminalia catappa Extracts against Some Pathogenic Microbial Strains. Pharmacology & Pharmacy, 2011 ; 2, 299-305.
Kankia HI. Phytochemical Screening and Antibacterial Activities of Leaf Extracts of Terminalia catappa (Umbrella Tree). International Journal of Science and Research (IJSR). 2014; 3(12).
Fofana S. Exploration biochimique sur le pouvoir immunogène de trois plantes en Côte d'Ivoire: Alstonia boonei (apocynaceae), Mitragyna ciliata (rubiaceae) et Terminalia Catappa (combretaceae). Thèse de Docteur en Pharmacie. FMPO, Université de Bamako. 2004 ; 123.
Kadam PV, Yadav KN, Narappanawar NS, Shivatare RS, Bhusnar HU, Patil MJ. Development of Quality Standards of Terminalia catappa Leaves. Pharmacognosy Journal. 2011; 3 (26):19-24.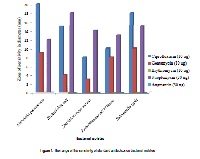 Downloads
How to Cite
1.
Ajiboye A.E., Babatunde S.K, Adedayo M.R, Adetumbi M.A, Ajuwon I.B, Ajasegun T.A. Antibacterial Potency and Phytochemical Screening of the Bark of Terminalia catappa Against some Clinical Isolates. ijp [Internet]. 2016 Jun. 30 [cited 2023 Nov. 29];8(2):193-201. Available from: https://ijp.arjournals.org/index.php/ijp/article/view/458
Section
Original Research Articles