In vitro and in vivo evaluation for immunomodulatory activity of methanol extract of Sphaeranthus indicus (Linn)
Keywords:
Immunomodulators, Sphaeranthus indicus, humoral mediated immunity, cell mediated immunity
Abstract
The aim of the present investigation is to evaluate the immunomodulatory activity for methanolic extract of Sphaeranthus indicus Linn. at different doses as 100, 200 and 400 mg/kg bd.wt. in healthy wistar albino rats. The assessment of immunomodulatory activity was evaluated for humoral immunity (antibody titre, plaque forming cell assay and quantitative haemolysis of SRBC) and cellular immunity (delayed type hypersensitivity, T- cell population and drug induced myelosuppression) with antigen challenge by sheep RBCs. Methanolic extract of Sphaeranthus indicus along with the antigen (sheep red blood cells) showed significant increase in the circulating antibody titer and the number of plaque forming cells (PFC) in the spleen at the dose of 100 mg/kg bd.wt. as compare to 200 and 400 mg/kg bd.wt. Methanolic extract of Sphaeranthus indicus also showed significant (p < 0.01) increase in the DTH response, restoration of histological parameters, increase in lymphocytes and rosettes formation in T-cell population at dose of 400 mg/kg bd.wt. as compare to 100 and 200 mg/kg bd.wt. The present investigation reveals that Sphaeranthus indicus can be used as immunomodulator for activation of both specific and non- specific immune responses.
References
Manu KA, Kuttan G. Immunomodulatory activities of Punarnavine, an alkaloid from Boerhaavia diffusa. Immunopharmacology and Immunotoxicology. 2009; 31(3): 377–387.
G.Wart, A dictionary of economic products of India, 1971.
Chopra RN, Nayar SL, and Chopra JC, Glossary of Indian Medicinal Plants, Council of Scientific and Industrial Research, New Delhi, India, 1956.
Ambavade S, Mhetre N, Tate V, and Bodhankar S. Pharmacological evaluation of the extracts of Sphaeranthus indicus flowers on anxiolytic activity in mice. Indian Journal of Pharmacology. 2006;38(4):254–259.
Bafna AR and Mishra SH. Immunomodulatory activity of methanol extract of flower-heads of Sphaeranthus indicus Linn. Ars Pharmaceutica. 2004;45(3): 281–291.
Dubey KS, Ansari AH, and Hardaha M. Antimicrobial activity of the extract of Sphaeranthus indicus. Asian Journal of Chemistry. 2000;12(2):577–578.
Singh SK, Saroj KM, Tripathi VH, Singh AK, and Singh RH. An antimicrobial principle from Sphaeranthus indicus L. (family compositae). International Journal of Crude Drug Research. 1988;26(4): 235–239.
Mahajan RT, Chaudhari GS, and Chopda MZ. Screening of some indigenous plants for their possible antibacterial activity. Environmental Bulletin. 1999;15: 61–62.
Garg SC and Kasera HL. In vitro antibacterial activity of the essential oil of Sphaeranthus indicus L. Fitoterapia. 1983;54: 37–39.
Sadaf F, Saleem R, Ahmed M, AhmadSI, and Navaidul- Zafar. Healing potential of cream containing extract of Sphaeranthus indicus on dermal wounds in Guinea pigs. Journal of Ethnopharmacology. 2006;107(2):161–163.
Pujar PP, Sawaikar DD, Rojatkar SR, and Nagasampagi BA. Eudesmanoids from Sphaeranthus indicus. Fitoterapia. 2000;71(3):264–268.
Yadava RNand Kumar S. A novel isoflavone glycoside from the leaves of Sphaeranthus indicus. Fitoterapia. 1999;70(2):127–129.
Rojatkar SR and Nagasampagi BA. 7- Hydroxyeudesmanolides from Sphaeranthus indicus. Phytochemistry. 1992;31(9):3270–327.
Singh SK, Tripathi VJ, and Sing RH. β-D-Glucoside of 24(s)24-ethylcholesta-5,22-dien-3-β-ol from Sphaeranthus indicus L. Indian Drugs. 1988; 26:317–318.
Lodha V. Chemical analysis of the essential oil of Sphaeranthus indicus-An ayurvedic plant of India. Indian Perfumer. 2003; 47:29–30.
Shekhani MS, Shah PM,Khan KM, and Atta-ur-Rahman. New eudesmanolides from Sphaeranthus indicus. Journal of Natural Products (Lloydia). 1991;54(3):882–885.
Subhashini N, Thangathirupathi A and Lavanya N. Antioxidant activity of Trigonella foenum graecum using various in vitro and ex vivo models. International Journal of Pharmacy and Pharmaceutical Sciences. 2011;3(2):975-1491.
Singhal M, Paul A, Pratap Singh H, Dubey SK and Kalpesh G. Evaluation of reducing power assay of Chalcone- semicarbazones. Journal of chemical and Pharmaceutical Research. 2011;3(3): 639-645.
Nagulendran K, Velavan S, Mahesh R, Begum VH. In vitro Antioxidant activity and total poly phenolic content of Cyperus rotandus rhizomes. Experimental Journal of chemistry. 2007;4(3):440-449.
Bilal Bin-Hafeez, Rizwanul Haque, Suhel Parvez, Suwarna Pandey, Iqbal Sayeed, Raisuddin S. Immunomodulatory effects of fenugreek (Trigonella foenum graecum L.) extract in mice. International Immunopharmacology. 2003; 3(2):257–265.
Agrawal SS, Saurabh CK, Gokul. Studies on Immunomodulatory Activity of Capparis zeylanica Leaf Extracts. International Journal of Pharmaceutical Science and Nanotechnology. 2010;3(1):887-892.
Satish Verma K, Asima Shaban, Reena Purohit, Madhvi Chimata L, Geeta Rai and Om Prakash Verma. Immunomodulatory activity of Withania somnifera (L.). Journal of Chemical and Pharmaceutical Research. 2012; 4(1): 559-561.
Gokhale AB, Damre AS and Saraf MN. Investigations into the immunomodulatory activity of Argyreia speciosa. Journal of Ethnopharmacology. 2003;84(1):109-114.
Shraddha Singh and Ashutosh Kumar Yadav. Evaluation of immunomodulatory activity of Grewia asiatica in laboratory animals. Journal of Chemical and Pharmaceutical Research. 2014;6(7):2820-2826.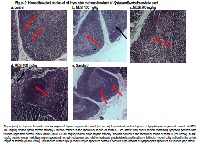 Downloads
How to Cite
1.
Sneha J Anarthe, E. Malavika, A. Pravalika, M. Ganga Raju. In vitro and in vivo evaluation for immunomodulatory activity of methanol extract of Sphaeranthus indicus (Linn). ijp [Internet]. 2015 Dec. 31 [cited 2023 Nov. 29];7(4):432-40. Available from: https://ijp.arjournals.org/index.php/ijp/article/view/435
Section
Original Research Articles